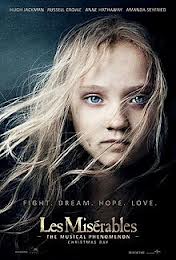 Liverpool Sound and Vision Rating * * * * *
Cast: Hugh Jackman, Russell Crowe, Anne Hathaway, Amanda Seyfreid, Sacha Baron Cohen, Helena Bonham Carter, Eddie Redmayne, Aaron Tveit, Samantha Barks, Daniel Huttlestone, Cavin Cornwall, Josef Altin, Dave Hawley, John Barr, Adrian Scarborough, Isabelle Allen.
Surely there is no way that one of the most intriguing theatrical productions of its time can transfer all its intensity, all of its enthusiasm and guile to the cinematic screen without losing any of its radical thought or scope. Many producers have tried and not many have ever matched the experience that you get when you are as deeply involved with the tale as you are when you embroiled deep within the production as a passionate observer, however with Cameron Mackintosh at the helm and Tom Hooper as director, there is no way Les Miserables can fail.