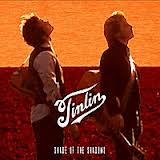 Liverpool Sound and Vision Rating * * * *
Take the vocal harmony of Scottish Del Amitri when they are at their soulful best, combine elements of America's Simon and Garfunkel and add the passion that certain songwriters can bring to their audience and the result you have is a superb album by Tinlin titled Shade Of The Shadows.
Tinlin are brothers Rolf and Alex Tinlin, with their vocal harmonies and soft gentle refrains, they make a proposition worth listening to with some wide eyed and overwhelming abandonment. The sound they combine alongside Stephanie Blood on cello on the songs In These Arms and Don't Want To Sleep Alone, Jack Carrack on percussion and Eleanor Tinlin on cor anglais and oboe make this an album worth seeping yourself into.