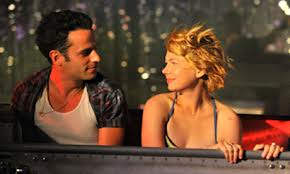 Originally published by L.S. Media. August 14th 2012.
L.S. Media Rating ****
Cast: Michelle Williams, Seth Rogan, Sarah Silverman, Luke Kirby, Aaron Abrahams, Raoul Bhaneja, Albert Howell, Dianne Flacks, Diane D'Aquila, Danielle Miller.
The leafy streets of Toronto don't have that many films attached to it to make it a serious rival to New York in which to shoot feature films, the sense of history is not quite there. Instead of the usual camera shots of well-worn cliché ridden snippets of Central Park, coffee houses and exclusive apartments, Take This Waltz relied on the majesty of the Toronto skyline and the idyllic settings of Little Portugal and Lake Ontario. For that alone gives the film credibility as it strays away from the well beaten production North American film path.