Liverpool Sound and Vision Rating 9/10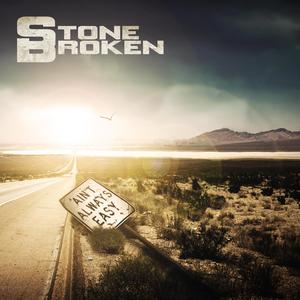 If everything was easy, then everybody would be doing it, everybody would have so much going on in their lives that the world would ground to a halt under the weight of simplicity and the uncomplicated.
If everything was easy, then what would be the point of endeavour, of pushing the soul till it reaches what feels like breaking point, there would be no conviction, no sincerity, no belief, art would become meaningless, music would be a devoid of any creative personality, theatre would become a bore. Thankfully it Ain't Always Easy, thankfully life and the pursuit of passion is full of pitfalls, traps, black holes and the respect due to those that try and often fail, for life, as Stone Broken make clear in the opening track of their new album, is Worth Fighting For.
Nobody ever made history by sleeking off into the background, nobody ever stood out, even if was for just a moment by having faint heart and the belief in the actions; it Ain't Always Easy but sometimes the stand has to be made and if you want to have control over your actions then you have to step up, rip up the rule book they provide and sing with conviction.
This is not some self help programme into which the copies of books fly off the shelf and to which is full of the normal, often empty, rhetoric, this is a series of songs that have the belief of the Black Country woven through them, these are the tracks which have guts and glory shrouded across each band member's shoulders and the infectious herald of faith placed before the audience as if they were seeing electricity flow from the fingers and the sincere explosion, the shredding apart of doubt, take place.
It is faith that greatness lies, it may not be easy but as songs such as the aforementioned Worth Fighting For, Heartbeat Away, Doesn't Matter, Anyone and Otherside of Me combat for the listener's attention and the perfectly shot arrows of joy pierce the armour of the unsure and arguably once unjust, so it is to Rich Moss, Chris Davis, Kieron Conroy and Robyn Haycock that this latest fire of pure rock comes down from the Black Country sky line and joins The Bad Flowers in being pivotal in the upsurge, a renaissance, in the music of the area.
A class act, defiant, pure and full of definition, this is what it means to realise that whilst not everything is easy, some have the passion deep within them to not let anything stop them.
Stone Broken release Ain't Always Easy via Spinefarm Records on March 2nd 2018.
Ian D. Hall