In all the ways we choose to cope with a particular problem, the choosing of a side, the letting go of the past, the trouble with our own involvement in a situation that go out of hand, none perhaps are constructive or as cathartic as realising that you have to go through the darkness to find the light, that the Bitter Before the Sweet is the only way to suffer if you want to let go of the anger, the possible rage and the undoubted regret.
For Scott Midlane, his new album The Bitter Before The Sweet is one that the listener cannot but be endeared too and yet at the same time, feeling as if there is the deeply unsettled act of letting go of the past within its tightly bound and pulse driven music; that this is a man who found the light after too long in the dark and the wish that we find for all our fellow travellers in that we could have perhaps done more to appease the pain.
Whatever the reason, The Bitter Before The Sweet is a journey, one that we must all go through one time or another and yet very few of us have the ability in to be succinct and honest at the same time about the references we draw a veil over and which we wish to let bleed outwards, to be free of the physical pain that burns in us.
I was able to catch up with Scott Midlane ahead of his new album release and talk about music, the way it has been an unburdening of emotions and what is to come.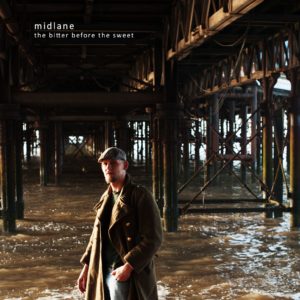 Congratulations on your new album The Bitter Before The Sweet, was it a difficult album to get to grips with?
"Thank you, I appreciate that. Subject-wise, I suppose was the most difficult thing. These are the most personal and honest songs I've ever written. My heart's really on my sleeve with this release (for good or bad) and I think it really shows. 
There have been times in the past when I've, maybe not shied away from a subject, but possibly sugar-coated it slightly, either out of some misguided sense of respect or possibly cowardice! Recording-wise, it was quite difficult as well. I'm teaching myself how to be self sufficient as a musician and that included album production. I'm very much an amateur in this field (though I like to think it's in the original sense of the word) and I've really had to teach myself how to listen again, take responsibility for the quality and sometimes let things go for the sake of the song. 
I've recorded this album at least three times in a search for perfection, but ultimately (and I suppose the listeners can be the judge) it doesn't exist. Whether it's because I'm a, 'newbie,' at this and don't have the skill or just the sound in my head isn't a sound I can produce. Still, I'm really happy with the end result."
There seems to be a feeling that you have written an awful lot of songs in the last year, how did this creative burst come about?
"I wish that were true. In all honesty, compared to the last few years, this has been a bit of a dry spell for me in terms of writing. Frustrating, yes, but it has given me an opportunity to get a lot of things I've written already down for posterity. This album was actually written about two and a half years ago (though, 'Bloodred,' was written about 2007 and the music for, 'My Surprise,' I wrote at the tender dopey age of eighteen) and it's because I've become more self sufficient, I've been able to record it. I've got a glut of songs (several albums over several genres) that I'm going to be getting on with and releasing over the next couple of years"
You have an almost poetic knack for bringing a great title to life, for example I Can't Fire You Because You Quit or even the melancholic Sat in an Empty Bar, is imagery from the outset important to you?
"I suppose it is, though I've never really thought about it. I'm a big fan of pop music, but I do find the lyrics to be a bit redundant at times and I guess it's me just trying to be interesting. Titles themselves are usually the last thing I come up with, because I want them to represent the song as much as possible but they can come from anywhere.
'Sat In An Empty Bar,' was literally written as I was, wait for it, sat in an empty bar, ha ha. 'I Can't Fire You, Because You Quit,' is my attempt at word play I suppose. I'll always try and get a Dad joke in there somewhere. I think it's also the fact I grew up listening to metal as well. 
There can be some really fantastic images in those songs (though to be fair a lot can be mindless bullshit as well). Good lyrics for me can make or break a song. I always love looking through CD booklets and pouring over the lyrics (as well as artwork) seeing how they've worked them into the music and what they ultimately mean. I do tend to be drawn towards the darker subjects in songs and these, for me, have a greater scope for imagery and maybe plumb the depths of the human experience more. I also think I'm a poet, but most people just call me a drunk."
What were the inspirations behind this latest release. 
"Trying to cope with infidelity. It was either that or see a shrink. Maybe I should have seen the shrink, ha ha."
What are your recording plans for the future?
"Lots and lots, I'm pleased to say (though I did just hear a groan from the general public). As mentioned before, I'm putting down tracks that I've written over the past five or six years and that spans to about four or five albums worth of stuff (that's listenable). 
I'm currently recording the debut album for my rock/industrial/prog/metal studio project Third Man Phenomenon and looking to get that out around April/May and then going straight onto the next one and trying and release that at the end of the year. At some point I want to record my other studio project, a grunge/rock/tiny bit of funk project called Scabeater. There's also the next Midlane album which I'll start late 2018/early 2019. That's a real mixture of old and new songs, so lots of memories there. I would say it won't be as downbeat as this album (though some would say miserable, ha ha) but being a failed misanthrope, I've never really been the type to write happy songs.
Darker songs are generally more interesting aren't they? I also want to start gigging again, so this year I'm going to get myself out there and properly whore myself about promoting, 'The Bitter Before the Sweet.' Last time I played live was in 2016 and before that, Christ I can't even remember. I'm looking forward to it though. All I've got to do now is learn the bloody songs."
A review of The Bitter Before The Sweet can be found here
For more information on the artist, upcoming tours and songs go to www.scottiedogma.co.uk.
Ian D. Hall