Liverpool Sound and Vision Rating 9/10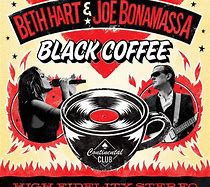 It is a combination that has set the heavens alight and given inspiration to get up, go forth and give the day the attention it deserves from your soul; a blend that has nothing but the finest ingredients placed within and from the first taste, that first bolt upright defining moment in which it grabs the passion lurking within and the respect for the greater things in life.
Black Coffee, that rich aroma and subtle kick which finds its way to the nervous system, which in turn is like an electrical charge going through the body, ready to bolster the positive, ready to tear down the walls of inhibition and give strength. It is in that first delicious drop of Black Coffee that the listener realises that the chemistry between Beth Hart, Joe Bonamassa and producer Kevin Shirley is one that is not filtered down, can in no way be called pretentious or overpriced and it is most certainly a brew that is neither strange or concocted; it is just Black Coffee, and boy, does it resonate.
The third such collaboration, the mixing of grade A beans is that resurfacing of the heady aroma, of the moment in which you instinctively know that the couple whose two previous journeys together resulted in a sense of hallowed perfection and in this, the next batch of ten songs, is to be treated with the same rare care and dedication; that the word delicious when it comes to making music can never be one that is oversold and only used when it is really only visualised from the heights of Kilimanjaro and the fields hosting those exotic flavours.
The recipe has to be exactly right when balancing the flavours of individual flavours, the blend must be adhered to at all costs and in the hands of Kevin Shirley, songs such as Damn Your Eyes, Give It Everything You Got, Sitting On Top of the World, Soul on Fire and Why Don't You Do It Right come across as a being world class, a tribute to the distinctive guitars of Joe Bonamassa and the vocal range of Beth Hart.
One more reason, if ever you needed one to love arguably one of the most prolific guitarists on the planet and one of the true legends of female Blues performers in the last 50 years. If Black Coffee isn't your cup of tea, then nothing else stands a chance of hitting the musical spot this year.
Ian D. Hall