Liverpool Sound and Vision Rating * * * *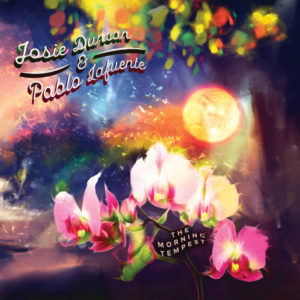 There are times when the award someone receives is entirely justified, that the storm they bring to the attention of the crowd is not just a full on rage and cacophony of noise melded together to make a song that is considered passionate or pleasant, it is the hurricane of emotions that dwell within and which crash outwards, tumble from the pit of the stomach and get the point of no return. Yet once they cross that threshold, it becomes a serene upheaval. It is to understand that the uproar of the night has given way and in its place, The Morning Tempest strides into view across the listener's mind.
The B.B.C Radio 2 Young Folk Award Winners 2017, Josie Duncan & Pablo Lafuente and their cast of players, Graham Rorie on mandolin, Rufus Huggan on cello, Robbie Grieg on fiddle, Conal McDonagh on whistles, Charlie Stewart on double bass, percussionist Neil Paton, Hedley Benson on the always exotic flugelhorn and Colin MacLeod on guest vocals add a certain spice, a unceasingly sense of the devout worship to Folk through a young mind's eye to Birnam's impressive roster with their album The Morning Tempest.
To weather the storm of youth is to miss the point, for too long and for far too many generations we have slipped into the bad habit of not allowing the young to be lauded for their achievements, we may pay lip service, we may applaud and congratulate but we don't really see the anger, the frustration, when we do it is in the negative aspects of the age, the fire is always to be wary of when it is seemingly out of control. Yet with that fire comes cleansing, a new approach, a passion that has been as yet untapped. From out of the tempest comes a freshness and it is one exploited and enhanced by Josie Duncan & Pablo Lafuente.
In songs such as The Great Escape, the sublime He Called For A Candle, the heart breaking sad lament of He Fades Away and the final utterly astonishing vocal work of Potato Puirt, Josie Duncan & Pablo Lafuente offer more than a chance to stand in the commotion of expectancy, they throw away the umbrellas of doubt and safety and urge the listener to see the storm up close and personal, they look up to the skies and pray for more to come; in that they radiate in the downpour of great rendition that comes with The Morning Tempest.
Ian D. Hall