Liverpool Sound and Vision Rating * * * *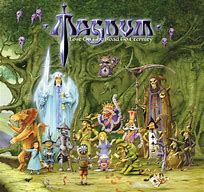 If you are fortunate, then you will hear over time the dynamic of a band change; evolution must be a forward progression, it cannot stand still, it must not get sucked into the void of regression. If a group or artist is to survive then it must be seen to take steps, rightly or for ill in many fan's eyes, in which to make sure it does not get Lost On The Road To Eternity.
Magnum have always striven for freshness, to have that complete sound which bought them attention they deserved in the first instance, by having captivating songs and albums in which they found praise and personal honour within. Yet freshness is important, it keeps the dog of staleness far from the door, the songs can be in the same rock mode but across the decades that the band have enjoyed the limelight and the toast of the scene, they have always managed to tweak and turn the music slightly in the favour. Personnel may change and shift but the ethos decreed silently by Bob Catley and Tony Clarkin remains the same.
There never really seems a point where Magnum would ever get lost on their journey, sure they made a detour or two, rested for a while in the bed chamber of another guise, but they have never lost their way, and in their latest studio album, Lost On The Road To Eternity, what comes across with their two new members Lee Morris and Rick Benton, as well as their erstwhile and sublime bassist Al Barrow, is the consistent reappraisal and revaluation of what makes the Midlands band stand out in a sea of their peers.
There will always be a hankering back to any group's perceived Golden Age, it is only natural to feel sometimes left behind and to cling on to the ways of the past, however without progression then there is nothing new, eternity isn't always following the same road and meeting the same people time after time, sometimes you have to look at the signpost and act in going in a different way.
In tracks such as Peaches and Cream, a simpler song perhaps from a period left long ago, through to Welcome To The Cosmic Cabaret, Without Love, Tell Me What You've Got To Say, Glory To Ashes and the album title track, Lost On The Road To Eternity  with Ed Guy's Tobias Sammet, that progression is there to be enjoyed, resounding vocals as always from the effervescent Bob Catley, joined with a sound that is different, not wildly so, just enough to mark it out as a new chapter in a long running and bountiful saga that keeps giving.
Once more Magnum have released an album of sincere songs, of rock infused story-telling and the drive to keep eternity at bay for a while longer; for the day they settle and lose that drive, will be the day when eternity comes a calling.
Ian D. Hall