Liverpool Sound and Vision Rating 8.5/10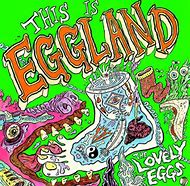 In a world that is becoming increasingly the butt of its own joke, it is reassuring to listen to a band who understand that angry DIY is the remedy for the relentless nonsense we are being forced to watch like an impotent voyeur, unable to stop events from unfolding, too entrenched in the clean and safe, almost sterile, humourless, watching our backs mentality that has become the everyday norm.
It is almost impossible to think of a bad such as the Sex Pistols even being given time today, the stance of the outsider being considered unlovable except in memoriam and reminisce and yet, with the same sly look and casting the same upturned sneering eyebrow, one though that has arguably more style in its repertoire, The Lovely Eggs find a way to cause beautiful chaos, to flip the once sunny side over, not one of silver polished flatness, but instead a barbed and cutting blade which sinks deep into the listener's psyche and comes out pulling no punches.
This Is Eggland, a place where things are done differently, where the call for uniformity is ignored, where the beat laid down by the so called purveyors of the big picture is wonderfully undermined and told occasionally to go forth and moan in its own time; every good soldier has the right to complain, every artist has the right to use good expletives should they wish.
To pick any track from This Is Eggland and give it special mention could be considered folly but in D*ckhead, I Shouldn't Have Said That, Return of Witchcraft, Let Me Observe and Would You F*ck, the dynamic is assured to agree with the spark of revolutionary in us all; it is rich, majestic and frightening full of incredible reality, one that cannot be denied less it pokes you in the eye and steals your sense of 21st Century Liberalism from underneath your own eyes.
A terrific album from Holly Rose and David Blackwell from The Lovely Eggs, a pair of musical cooks who have perfected the meal in which they serve , the menu displaying the only three words you need to hear said out loud; This Is Eggland.
Ian D. Hall
The Lovely Eggs release This Is Eggland on 23rd February.
The Lovely Eggs come to the North West at Manchester's Hole in the Wall on February 17th. Support comes from Phill Jupitus in his Porky the Poet guise.