Liverpool Sound and Vision Rating 9/10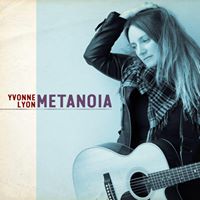 At times you cannot help but be drawn to a line from an old poet. A song will come on the radio, an album will be played and through the airwaves and dominating speakers, sage old advice from down the centuries will be remembered, thought of and mused upon. It gathers together the issues faced and suggests without any hint of irony in the invisible, disembodied voice in your mind, that Time has a funny way of repeating itself; the words might be modern, however the sentiment and message remains the same.
Yvonne Lyon's brand new recording, Metanoia, is one such album that grasps the reason of listening to the past and showing a way forward for the listener's delight, its inspiration firmly rooted in the meaning of the Greek word translated as "a new way of seeing" and whilst not audibly in the same region or artistic form as William Blake, its definition is abundantly clear, we do not open our senses enough to let different ways of thinking in, we have become too rigid in our outlook, especially in the social bubbles we seek out.
Looking at something with a fresh perspective is always to be congratulated, it shows that the emotional bond one feels to any art created before, can be changed, can be given a new lease of life. In Metanoia, Ms. Lyon takes previously unreleased tracks and reinvented older songs and gives a performance that captivates and charms in equal measure. A fusing together of emotions that bind both artist and listener together in a way that might have been lost if not for this approach, the symbolism of the fragile nature at hand but also with the strength to show the right amount of truth that comes with being vulnerable, passionate and whole.
Songs that whisper sweet serenades of this passion, Pocket Full of Storms, Sweetest Freedom, She Survived The Winter, Where Echoes End and This Road Is Leading Us On, resonate the point of hearing the past, of taking the advice from the long since gone poet, and the heartbeat of your own view of the world, marrying them together and setting the combined thoughts free to explore.
A stunning set of songs, if the doors of perception are to be challenged then in Yvonne Lyon's Metanoia comes the sound of the herald knocking loudly and with calm assurance.
Ian D. Hall