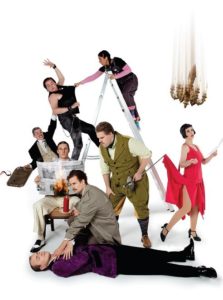 Olivier Award winning production The Play That Goes Wrong comes to Chester's Storyhouse Theatre on Monday 29th January for one week only with a cast that includes Jake Curran (Chris), Catherine Dryden (Annie), Bobby Hirston (Max), Benjamin McMahon (Dennis), Gabriel Paul (Trevor), Steven Rostance (Jonathan), Kazeem Tosin Amore (Robert), Elena Valentine (Sandra) with David Kristopher-Brown (Understudy), Laura White (Understudy), Liam Horrigan (Understudy) and Louisa Sexton (Understudy).
Winning eleven international awards, including the 2015 Olivier Award for Best New Comedy and a 2017 Tony Award for its Broadway transfer, The Play That Goes Wrong continues to play to sold out houses in the West End, whilst enjoying its new status as Broadway's longest running play. It is a remarkable rags-to-riches story for a play, which started its life at a London fringe venue with only four paying members of the public at the first performance, and has since played to an audience of almost one and a half million worldwide. This autumn The Play That Goes Wrong has been playing simultaneously in twelve countries.
Co-written by Mischief Theatre company members Henry Lewis, Jonathan Sayer and Henry Shields, The Play That Goes Wrong is a highly physical comedy packed with finely-tuned farce and Buster Keaton inspired slapstick delivered with split-second timing and ambitious daring. The play introduces The "Cornley Polytechnic Drama Society" who are attempting to put on a 1920s' murder mystery, but as the title suggests, everything that can go wrong – does, as the accident prone thespians battle on against all the odds to get to their final curtain call.
"Why would all these regional theatres want a return visit of our little murder mystery show when last year's tour went so badly wrong. I am at a loss to understand it." Producer, Kenny Wax.
Mischief Theatre was founded in 2008 by a group of graduates of The London Academy of Music and Dramatic Art (LAMDA) and began as an improvised comedy group. Their other production The Comedy About A Bank Robbery is now booking into its third year in the West End at the Criterion Theatre In December 2016, Mischief made their television debut on the B.B.C. with Peter Pan Goes Wrong, starring David Suchet as the guest narrator. Peter Pan Goes Wrong (Olivier Award Nominee 2016) also enjoyed two sell-out West End seasons and a U.K. tour. Mischief returned to B.B.C. One last Christmas with a brand new production, A Christmas Carol Goes Wrong, filmed in front of a live studio audience.
The company is led by Artistic Director Henry Lewis and Company Director Jonathan Sayer.
The Play That Goes Wrong is directed by Mark Bell, with set designs by Nigel Hook, lighting by Ric Mountjoy and costumes by Roberto Surace. The Play That Goes Wrong is produced in the West End and on tour by Kenny Wax Ltd and Stage Presence Ltd.
The Play That Goes Wrong is on at the Storyhouse in Chester from January 29th till Saturday 3rd February. Tickets are priced from £20.50. Tickets can be purchased online at www.storyhouse.com, by telephone on 01244 409113 or visit the kiosks at Storyhouse on Hunter Street, Chester.