Liverpool Sound and Vision Rating 9/10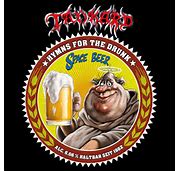 You can never keep heroes down, they don't require a cape, they have no need for x-ray vision, for the energy of the gods or the sense of righteous indignation when the world is about to attacked by an alien. Unless of course that particular extra terrestrial being is skimming off the head of the beer ordered and taunts the drinker with the empty glass and throwing down the gauntlet of proving that the finest cult Metal band of them all has stamina to sing Hymns For The Drunk.
For Tankard, Germany's finest, this is not just a collection of songs put together in a bound leather copy, destined to gather dust on empty pews, this is the song of the lauded and the praise that is due in an album which highlights the very best of the band that has worked its socks off and stayed true to their mantra all their career.
Hymns For The Drunk is a riot, pure and unadulterated, big, brash and hits the back of the throat with the sensitivity of a sledgehammer attacking a sturdy wall, one that has metal strewn through its very foundation and riveted down through over 35 years of experience. If this best of were a ship being launched upon the Clyde, the Tyne or the Mersey it would not only be celebrated as a feat of engineering but would take pride of place at the head of a pounding flotilla. As it is, buoyant with German know how and industrial poise, Hymns For The Drunk is a source of the best there is, not just steering a path for the best songs from Tankard, but a machine, one that can fight whilst holding down the finest of ales.
In tracks such as Slipping From Reality, Die With A Beer In Your Hand, the superb and sublime Zombie Attack, Empty Tankard and the skull punishing but life pulsating The Morning After, the German kings of the genre reach out with memories and the kick of expression that so many forget to hold onto when their time comes round full circle.
There are many ultimate best off's, there are countless reasons to push out the bunting and knock back a six pack of well brewed beer as the inevitable reflections of time take hold, yet there is only one true Tankard, one band to whom raising a glass and declaring to all comrades that it is time to sing loudly for the Hymns For The Drunk.
Ian D. Hall