Liverpool Sound and Vision Rating 8.5/10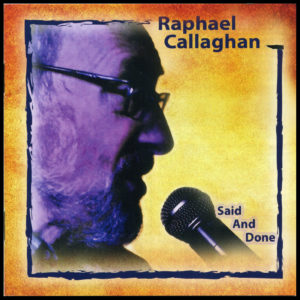 Don't Let the Devil Drive, but then He does write all the best tunes and offers the finest scathing one liners to which he has no issue in you pursuing and making your own, when all is Said And Done, if the ride is free and you get to shoot the breeze with someone who is going to plant random gems in your mind then don't just let the Devil drive, make him sing as well.
When all is said and done, perhaps a constant refrain used by some when they want the conversation to end in their favour; however for Raphael Callaghan, there is no end, the Blues he entertains is unceasing and constant, the dialogue between artist and listener is one of exchange of ideas, not one of being closed down and struck in the flowering youthful glance. When all is said and done, the music keeps coming and in this new set of songs, what is said is captured and presented with sincerity, wit and wonder, the devil drives and offers the chance for tempting discussion to be had.
The album is one of generosity, it is full blooded, no prisoners taken, not visible ones anyway, there might be a knock or two from the trunk with Devil turning up the stereo and asking you to speak louder, but ultimately what Said and Done does is to lighten the load of drama, to put a smile upon the face, to sit in quiet reflection as a mediator between the sense of good and proper and the love we deny ourselves.
In songs such as Keep Calm and Carry On, The Heartbreak Bar, (I Don't Take) Sugar No More, I Think I Hear The Train, I Love To Watch You (As You Walk Away), Don't Let The Devil Drive and She's The Winner (I love Her Just The Same) Raphael Callaghan brings out the very best in the Devil and even in the sense of the rules laid down at the start journey, something is bound to change with the experience of the person who is riding shotgun.
When all is Said and Done and the dust from the Devils car settles on the freeway, what is gained is more than what may have been lost, in this case it is a gain of immense proportions, a dialogue fully engaged with and stories that are beautifully balanced and wonderfully relevant.
Ian D. Hall