Liverpool Sound and Vision Rating * * * *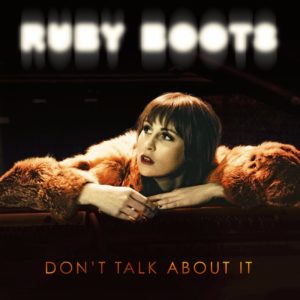 For good or for ill, we are now encouraged to talk about everything that happens to us in our daily lives. If it is important then it is understandable to make sure our voices are heard, that our point of view is given air time and given respect, in a world of 7 billion people it is essential that we don't curtail anybody's story, that we don't censer the stuff of great consequence.
The words become an issue when the banal and trivial is considered more vital than the earthquake of ideas, is it then that we should implore others to Don't Talk About It, even though it might be the only thing that person ever says.
Australian born and Nashville based Ruby Boots has a lot to talk about and all of it arguably relevant in the world we seem to have inherited along the way. View points and conversations, the introspection and the scrutiny of our souls is something that we should be encouraged to discuss, our lives are intertwined and what happens to one, soon happens to another and the endless gunfire of political interference, of control by one human being over another, of oppression, of dominance, of abuse.
To take charge of your own life and put two fingers up to those who have tyrannised you is a liberating feeling, and it is one that comes across with a healthy perspective and lifting of burden in Ruby Boot's release Don't Talk About It. Liberation, the lifting of the screwed down thumb and the lifting of the boot from the person, no matter what you have to say there is usually a deeper meaning, a message trying to crawl out of the dark; if someone even only wants to hear another person's voice and connect with humanity, then in all truth, we should allow them to say their words. It could, after all, save their live.
A country artist you may not have come across as yet, however Ruby Roots is passionate, a different take with her Australian back ground compared to legions and legends that call Nashville their home and in songs such as Break My Heart Twice, Don't Give A Damn, Infatuation, the heart breaking but also reassuringly calm I Am A Woman and I'll Make It Through, Ruby Boots opens her heart and sets about to liberate your own thoughts.
It is a tough ask for anyone to set out and do, to help unlock the chains of another soul, but Ruby Boots implores you to ignore the pushers of the silent acts and feel comfortable in talking about it.
Ian D. Hall