Liverpool Sound and Vision Rating * * * *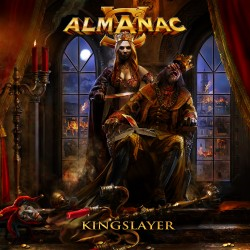 There is a reason why some certain aspects of history resonate more than others in the minds of those who choose to look back, for they are normally the ones who see the parallels in the present day, they are the ones who can see just how a natural course of events in the modern era have been shaped by what has gone before and as one political leader is character assassinated or thrown to the wolves, so too does a King or Queen of old resemble that putsch or stab in the back.
There are hardly any instances of regicide in today's world, the would-be slayer content with bringing down Government, sometimes from within if it furthers their cause of advancement and lining their pockets with more silver, in that respects nothing really has changed, the king is still wary of the assassin, the feeling of paranoia of every waking moment as you look into the eyes of the Kingslayer, one of perpetual anger, one of looking over your shoulder and practicing the words of fallen kings.
Almanac's latest album, Kingslayer, is one that captures the world of the once and former kings, a timely reminder of why history is so fascinating, why it reminds of the eras, no matter in what context it is, it is the shaping of the country under people such as the Plantagenets and the Tudors that make for captivating reading compared to the near desperation of beige suits and platitudes of some modern day would be leaders and Kings in borrowed clothes.
What doesn't change is ambition, whether in wanting to climb to the top of the greasy pole and stepping on people's faces to do so, or indeed by the rapture of performance and giving the fans the delight in a well structured album. It is in that structure that Kingslayer rams home with elegance the songs that deal with the world of the regicide.
For Victor Smolski, Andy B. Franck, David Readman, Jeannette Marchewka, Antanasios Tsoukas and Tim Rashid, Kingslayer must certainly represent the next step up, a full bloodied album, one that gushes out of the cut that has penetrated deep in to the psyche of musical output and is more than tempting in which to envisage the bitter blow upon blow of repeated angry bass and stirring vocals that make the scenes worthy of Hamlet itself.
In tracks such as Losing My Mind, Hail To The King, Children of the Sacred Path, Guilty as Charged and Regicide, the boiling blood of the act of being the slayer of an era, of being instrumental in the fin de cycle, is what makes us human. It is not out of ambition it seems to kill the old king, but out of a necessity to bring about change. A change that Almanac insist rightly on being at the forefront of
Ian D. Hall