Liverpool Sound and Vision Rating * * * *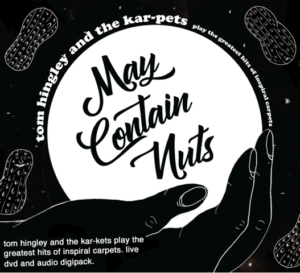 The halls and venues up and down the length and breadth of the country have long either laboured or rejoiced under the weight of the tribute band and sometimes look-alike, if not quite sound-alike homage to some of the nation's most endearing and popular bands of the last 60 years. It is a weight of expectancy to a night out that carries risks and can bring memories so vibrant flooding back into view, that it is possible to find yourself shedding a tear as a particular line is carried through the air; it is a tear of truth, reminisce and pleasure, or it could be a finer moment of expression, it could be that it May Contain Nuts.
Tom Hingley & The Kar-Pets is not your usual ear-catching stroll down memory lane or quick look over shoulder down a dark street series of recollections, a tribute but one with a certain degree of pedigree attached to it, one that has the unique rubber stamped through the release of a double album that pays respect and worship to the hits and much loved tracks by the Inspiral Carpets.
The album is one that was recorded at the wonderfully uncontainable show at the Ruby Lounge in 2016 and the feeling of out of breath, manic listening is only enhanced further by the vocals of Tom Hingley, a man to whom was arguably far and away one of the more important figures of the media described "Madchester" scene of the 1990s. May Contains Nuts, perhaps balls of steel would be a finer moniker in which to describe the rebelliously cool way in which the listener finds themselves appreciating the way a tribute act can be perceived and admired.
In tracks such as Saturn Five, Joe, the aptly titled Two Worlds Collide, Sackville, She Comes Around, Witches Brew and This Is How It Feels, what comes across is a distinctive love and bond formed between the homage and the original sound, the marrying of two eras perhaps, the union of the creative initial experiment and the security of keeping the dream alive.
A very distinctive, almost unique in itself, double album release by Tom Hingley & The Kar-Pets; May Contain Nuts is a memory that has returned to thrill the air.
Ian D. Hall