Liverpool Sound and Vision Rating 8.5/10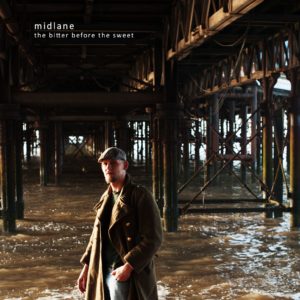 It is a lesson we all hope we never have to experience, but there is no denying that we all go through it at some point or another and in the end the result can be one of relief, one of tender emotion, one of the most gigantic roar, like a bowler finally displacing the wicket of a troublesome and stubborn batsman or the surgeon expanding every piece of skill in her possession in removing a tumour; it is The Bitter Before The Sweet that makes life more optimistic, more fruitful and also a finer moment in which to give back with two fingers to those who caused harsh resentment in the first place.
For Scott Midlane The Bitter Before The Sweet is a culmination of many things, experiences, arguably the rough and the cynical, but it is also the passion that drives many being able to find a release, a monster once captured but one who is soon liberated and found to be just a man's will, a human being's response to pain, an electrical storm now eased and passed over, the bitter accepted for what it was and now in hindsight, just another step towards a different direction; there is after no such thing as monsters, even in song, just emotions trying to work their way out.
In a year when Scott Midlane has released so much material, it is more than heartening to realise there is so much left to come out, not being released for the sake of it, not a simple exercise in self-examination, but full bloodied rage, passion, love and sweat that even in The Bitter Before The Sweet somehow resonates with the slap on the back and feeling of contentment of listening pleasure.
In songs such as Sat In Empty Bar, I Can't Fire You Because You Quit, Bloodred, My Surprise and the album's title track The Bitter Before The Sweet, Scott Midlane excels arguably like never before, the absolute feeling of injected enthusiasm is zealous, a delightful outburst of once pent up fury and like any artist who feels the storm coming, uses it to dramatic and full effect.
It has always been a pleasure to listen to Scott Midlane's work, something new though has come through, something in the shadow of the electrical bolt in the middle of the storm, it is the strongest feelings of a mindset that has seen the way through to other side and it is to be congratulated.
Ian D. Hall