Liverpool Sound and Vision Rating * * * *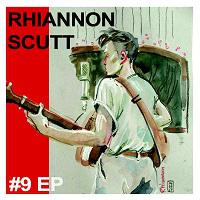 Rhiannon Scutt may be known as one half of the fabulous Folk couple Rita Payne but she also deserves the accolade of holding her own name in assurance with a sense of clarity to which some might find their own identity consumed by all that has gone before. Identity is important, it is the madness of our own lives that makes what we absorb so tangible, a conviction that no matter how small the chapter at that point in time is, what can emerge is one built on conviction.
There is a moment on the #9 E.P. which has the distinction of being one in which shivers run down the spine and to which has an air of the mystical edge in which music can transfix lives and give so much depth to even the smallest of breaths in which we might take. Simon Stafford's trombone during the song Lee is incredible, a short note, one that encompasses all the feelings of loss and hope dashed upon the seas of humanity with one perfect placement in a song that breaks the heart.
The five tracks, I Swim, Waging War, Lee, The Songwriter and Another Way have a measure cool strewn through them. Confidence abounds during the songs, their grip on how we see ourselves in the mirror is arguably enlightening and with Simon Stafford, Richard Cook, Finlay Stafford and Sarah Heneghan all contributing to the effect, what comes across is a commune of ideas raging against the placid and the distrust that so many find in collaboration; it is a rage that is sweet and divine in equal measure.
Rhiannon Scutt's writing on the album is of that same calibre, the right word in the right place is enough to hold a listener spellbound; the musicianship is balanced with a feeling of being together in absolute spirit, even though there was no rehearsal before the live recording. It is in this that #9 EP is to be seen as a set of songs that hold a sense of poise and panache, whilst yet being one of the most down to earth recordings of the year.
Honest and with no distractions, Rhiannon Scutt has exemplified the meaning of making music, it is one that requires belief, faith in one's ideas and one that doesn't waver no matter what. #9 EP is a bonus that was unexpected but is held tightly to the heart.
Ian D. Hall