Liverpool Sound and Vision Rating 9/10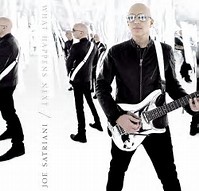 There may be no words needed, no sentence passed or phrase expressed in admonishment at the way the world is heading into an abyss of its own making and yet sometimes, a musical intellect will say it best when they allow the instrument of their choice, their weapon of anger in which to wield against the pseudo whizz kids and politically emotional unstable who see the world as a plaything and whose own words are destructive and callous, even when reduced to the insensibility of a hundred tweets.
What Happens Next is perhaps the question we all want to ask, that scream that is deep inside, played out with the tune of a guitar on fire, aided by one of the finest drummers in the business and a man to whom many see as a God in human form, that scream is a symphony orchestrated by Joe Satriani to devastating effect, a sonic pulse that just gets underneath the skin and finds out exactly where you stand. Why do you need a sentence when you can have life under Joe Satriani?
The full flavour of the 12 instrumental rock songs are given a sense of power fulfilled with the addition of Glenn Hughes and the man of the skins in Red Hot Chili Peppers, the versatile and groove elegant Chad Smith; it is a flavour that once again Mr. Satriani has shown to the public and finds no quarter given to anything but pace, passion and a pulse that hits home a million rivets into the sturdiest of battleships. One that does not seek to conquer but instead find the place in which the whizz kids and emotional can be consoled and shown the errors of their ways.
What Happens Next is one of those true moments of the instrumental songbook which can transforms the thought of the medium; one too long perhaps embroiled in the bad Blues of the 70s and 80, or in the Jazz that really found a way to distance itself from the pure beautiful decadence in which it was founded. What Happens Next, in tracks such as Catbot, Thunder High On The Mountain, Cherry Blossoms, the album title track of What Happens Next and Invisible, the answer is like an opened flower, one that radiates a smell of justice and considerate understanding, one that is in full bloom and worthy of sitting in front of and thinking that the world must survive.
A fantastic opener for 2018, Joe Satriani once again kicks down the door of the beige and the dull and takes them to task.
Joe Satriani's What Happens Next Is released on January 12th 2018 on Sony/Legacy Recordings.
Ian D. Hall