Liverpool Sound and Vision Rating 8.5/10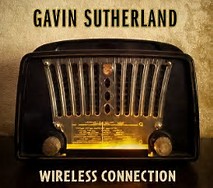 Once the maker of A Curious Noise, now the man to whom holds the keys to the Wireless Connection; Gavin Sutherland's sense of musical purity knows no earthly bounds. The static that others may find on their dial as they speed through the signals and the indicators of life, the crackle and the hiss as their motion is deemed to be clumsy, heavy handed and liable to pull the control off in frustration, is simply treated with elegance and grace by the man who sees Roots and Americana as a relationship worth preserving and who sees no issue with offering it to the listening public as a link in which to enjoy together.
The union between Gavin Sutherland and the roots of America might seem complicated, but it cannot be seen as complex or unfathomable, after all, we all have our own ways of seeing something we love gather momentum, we see the moments we once sought out, find a way to emigrate and go into exile in our minds, to go into the deepest reaches, only to return in the shape of a tune, once forgotten but now connect with clarity and sharp resonance. The music from the wireless holding strong and sending signals to all posts!
There is no sense in which Mr. Sutherland's music can be seen as anything other than the act of sincerity in which he presents it, an organic, natural and pleasing accomplishment in action. Wireless Connection is one of familiarity but also the whispering strangeness of informal friendliness; an act of peace in a war ravaged and crowded room of music.
In songs such as Blueberry Wine, Old West Road, Monkeys and Trees, The Thistle and the Rose, After the Storm and the brilliant conclusion of the album's final track, The Nightbird's Song, Gavin Sutherland and his musicians, including John Wight, Carl Damianto, the haunting cello of Gareth John and Nick Zala, make that seemingly invisible connection hum with honour, truth and incredible, beautifully imagined scenic persistence.
A Wireless Connection, perhaps the tie that binds us together without us knowing, our own stories wrapped up in the ether waiting to be downloaded and heard by others; it is a connection that Gavin Sutherland communicates with heartfelt pleasure.
Ian D. Hall