Liverpool Sound and Vision Rating * * * *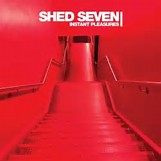 It has been a long, often lonely, wait for any sign of a new Shed Seven album to come out. Break ups and the seemingly self decline of the period in which they were born into, placed together with others in the elaborate styling's of  Brit-Pop, an anger and a rage that perhaps didn't truly reflect their persona or the way they played. Some moments in life though are full to the brim of the immediate and the gratifying; some have the Instant Pleasures woven through them like writing in a never ending stick of rock.
The world has turned in the last 30 years, we seem to no longer be patient to wait for a good thing, the instant is driven by need for a sense of confirmation, of the approval we seek and the reward, in many cases the compensation for this is not worth the feeling we are prepared to exhibit. What we must arguably do is learn that some instant pleasures seem sallow and unfulfilling and those, like the one offered by Shed Seven are brimming with the possibilities of a sound that grabs the attention and does not find itself wanting to appease the near sighted or the charmless.
It may have been a long wait for Shed Seven to find the way back to the studio but in Instant Pleasures the effect is sublime, it has the anger, the conscious, the fire in abundance but it also has the mellow edge wrapped inside, it has the popular angle in which to redefine itself to a new audience but one that pays homage to those who were by the band's side in its initial founding and the success that was rightfully theirs to enjoy. It is an album that rocks out, places its trust in change but knowing the older, established fans who kept asking for a return will see the smile return to their faces.
In tracks such as the opener Room In My house, Said I'm Sorry, the enlightening Victoria, Enemies & Friends and Star Crossed Lovers, Shed Seven have issued a warning that they have not just made an album in which to be seen as coming back from the grave, this is no casual resurrection, this is once more the phoenix rising in its blue fire and making sure the world is ready for its declaration of sound.
Instant Pleasures, the world has been waiting eagerly for this.
Ian D. Hall