Liverpool Sound and Vision Rating 8.5/10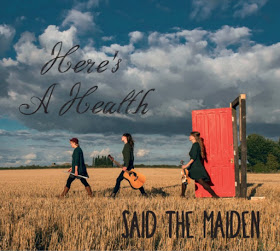 Said The Maiden bring a balance to musical harmony that is quite unlike anything else that clothes itself in the mystique of Folk music.
It may be a strong statement, one of those in which the listener might struggle to accept as nothing more than an anecdote or wishful thinking on behalf of those who believe they have found a purity of soul and desire to spread the word, and yet deep inside Here's A Health lays a toast to all that hear the rhythm, all those that utter unconsciously cheers to Jess Distill, Hannah Elizabeth and Kathy Pilkinton as they serenade with the finer elements of English Folk music.
The trio are no strangers to the scene, especially with their 2014 debut album A Curious Tale still resonating with the listener and critic alike. Here's A Health carries on that overflowing of vocal beauty to which the threesome have become renown and as they tackle new arrangements of classic American, English and Scottish folk songs, the a cappella sound bursts out with flavour, the sweetness in the voice able to spring forth and take the listener hostage until they relent.
Here's A Health, the toast to Queens of the craft, bewitching, tender, full of stories that drive the imagination and makes the mind sing with possibilities, for in Said The Maiden, the ability to hold the attention of the one in awe is paramount.
In songs such as The birds Courting Song, the wonderful Sweet William's Ghost, the unnervingly cool child's lullaby of Jennifer's Rabbit, the warning of the spectral and the dangerous in Black Annis, In The Pines and The Quiet Joys of Brotherhood, Said The Maiden have enhanced their reputation and furthered the way they ensnare the crowd with a sense of enthralling femininity and absolute majesty in their collective voices.
There is no stopping something that sounds blessed, that has the power to move you just with a single gesture, be it verbal or as a direction of the way a body can sway when holding a musical instrument set to blow your mind; for Said The Maiden, the music and voice combine to deliver command and authority of spirit.
Ian D. Hall