Liverpool Sound and Vision Rating 8.5/10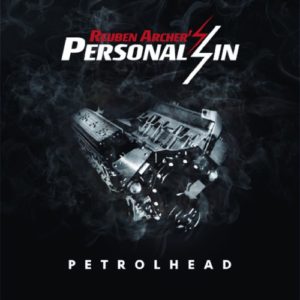 One must always find the time to confess a love in their life, we are here for such a short time that to deny what makes up happy is to deny some sort of existence; whether it is the person of their dreams, the smell of hot tarmac punishing the air surrounding them or the thought of leather shining in the American sun, the cool wind giving a sense of alien like fragility as the road crumbles ahead and cracks under the pressure of a thousand tyres leaving their imprints and marks. To deny a love is a personal sin and one that almost any Petrolhead would raise their arms in joy at hearing from someone of similar persuasion.
It is to Reuben Archer's Personal Sin that the confession of love must be allowed to become an open secret, which the Petrolhead has always been there in one form or another in the guise of music. The open road of Britain might not seem too cosy, too packed with the want away driver and far less miles available in which to stroke the engine in which to understand why it a dream relationship for some; but transport that adoration across the Atlantic Ocean and look at the open highway, then the argument becomes one of automobile class, of the stories that permeate the skin of the leather seat and the roar between the cities visited.
The former Lautrec, Wildhorses and Lionheart vocalist has once again brought to mind a sense of purpose to the Rock environment, a type of manual for the appreciation of the life that is that symbolic with the post war generation, the chance to own something that would be part of your dreams, your aspiration and be there, even if you could not afford to fill the beast up, when all around is flat and the battery spent.
The noise of the turning of the key is enough to make songs such as No Gasoline, the poignant Last Chance Station, Good Times Rolled Away, Stone Cold Turkey and Ballad of Junior Johnson all leave their tyre marks over the listener's conscious, the rubber ready, the gasoline pumped and the story of the uncharted road ahead, for the Petrolhead, for the Rock lover, there is no better place to be and with no finer confession as a travelling companion.
Reuben Archer's Personal Sin's Petrolhead is released on December 8th via Toxic Arrow Records.
Ian D. Hall