Liverpool Sound and Vision Rating 9/10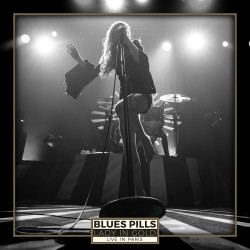 The lady might sing the Blues, but in the heart of the cultured Parisian theatres, it is a joyful affair, the rumble of the traditional beauty that Paris affords, the simple pleasure of painting scenic memories by the Seine, the grace in which their society flourished and was seen as a beacon of hope in the artistic world encompassing the down but not beaten and the regal posturing of good taste.
The Blues might seem like a stranger to the high class fondle of the lonely guitar and the rhythmic endurance of the drum beat keeping time, but for Blues Pills and their new album Lady In Gold- Live In Paris, the stranger is greeted like an old friend baring gifts, not with clumsy adoration but with the allure that only Elin Larsson can provide, gifted as she is with a voice that breaks hearts and brings forth dreams.
There are some cities in the world that just lend themselves to the thought of recording a live album, in which the scenery, the abundance of the past, the history, the people and even the fashion of the age, are all able to blend with sincerity the mood captured in whichever venue holds the power that night. Whereas the Carnegie Hall, the Royal Albert Hall or the Vienna Opera House holds the public's attention, it is arguably the setting which captures the imagination with more fluidity, more aggressive panache, and in Paris, the smell of success and appreciation is always well founded.
Lady In Gold – Live In Paris is more than suited to that mood, it accentuates the feeling of passion in Elin Larsson's vocals, the sensitivity of the Dorian Sorriaux's guitar, the rampant sex appeal of Zack Anderson's bass and 18th Century duellist nature in Andra Kvarnstrama's drums; it is the city of love and romance, where literature has a helping hand in the chivalric code and in which Blues Pills dominate with a demeanour of sensuality.
In tracks such as Black Smoke, Devil Man, Little Boy Preacher, Rejection and Gone So Long, Blues Pills reach in to the Blues scored heart and cradle the beauty to be found in the city and the band; there is no escape, no hiding place, the only thing to do is rejoice and let the Blues sweep over you with all the passion of a weekend romance overlooking the spectacle that is Paris.
A magnificently delivered and produced live album, Lady In Gold – Live In Paris is the sound of quality shining through.
Blues Pills' Lady In Gold – Live In Paris is released on November 3rd.
Ian D. Hall