Liverpool Sound and Vision Rating * * * *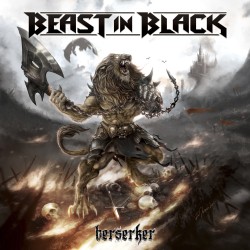 You probably don't believe that the trance like can take hold in something as acute or passionate as Power Metal, that the rage of the Berserker can be found settling into the form of the beasts that roam the stage, adrenaline fuelled, the blood pumping faster as if struggling to contain the soul. You might not believe in the hypnotic but as Beast In Black unburdens itself like a hero beside the fire, the warmth making the stories flow as if champagne is poured from the stars, then the hypnotic and the trance is what you find yourself in, the cascade of the words of the Berserker's tale becomes the reason you fall under its spell.
The Helsinki based band may have their roots in as different past but the future is very much the attentive vigilance that is in order, a blood line of metal secured and given even greater credence, an even finer point of view. It is a vision that former Battle Beast stalwart Anton Kabanen typifies with luxury of lyrical knowledge and the rapid quick fire response of Yannis Papadopoulos' vocals.
The trance and the vision, two sides of the same, often well spent, coin, one that never seems to lose its gilt edge or its shine in the face of the over purloined beige and the inconsequential pop. This is rage in all of us if we allow it to come to life, a truth that we all feel but some suppress too hard, they slink into their own belief that the storm is little more than a fashionable trend and that they are safer inside their own bubble rather tackling the problems of the world head on.
In tracks such as Ghost in the Rain, Zodd The Immortal, Blind And Frozen, Eternal Fire and The Fifth Angel the allusions to metaphor and praise are boiling under the electrical current, they have the heartbeat of that Berserker wrapped throughout and yet they offer the trance like state in which the listener will find hard to pull themselves away from.
Beast In Black is another story teller's dream, more than a symbolic offering, it is the animal uncaged; all teeth glaring and the roar heard over many miles; the Berserker is unleashed.
Beast In Black's Berserker is released on November 3rd.
Ian D. Hall