Liverpool Sound and Vision Rating 9/10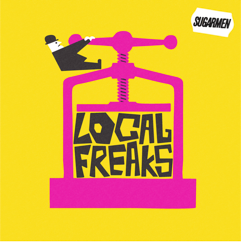 A spoon full of sugar may indeed help the medicine go down, however, when you have the Sugarmen close at hand then who needs a remedy, you have the antidote to the beige and the dull right at your hands; no Doctor could find a better way to dispel the blues.
It is with the album Local Freaks that Sugarmen cement and build upon what is already a huge and surely unbreakable bond in Liverpool between band and gig goer, and to which can only make them one of the biggest influences to come as more people found out just how infectious they are to listen to and how they relish in the contagious aspect of their studio and live performance.
Local Freaks, two words which should, with reason, hang on the lips of many, for the infectious feel of the album is born out knowing that to embrace the monumental flourish in which New York eagerly stood with a racing pulse in the 1970s, as luminaries and great thinkers took the Rock ethic in a direction it had not envisaged; it may have been a while but to the Sugarmen all kudos must be offered, for in the frenetic, in the frantic pulse lays the brilliance of a debut album and it is a stunner.
In songs such as Our Gallows, the single Push Button Age, Thunder In The Foothills, Central Line and Rabbit Hole, Sugarmen serve notice that they, if all things are allowed to be true, are a dynamic that will be seen as captivating in the studio as they are live. They join a long list of bands from Liverpool that has this appeal and it is with absolute regret that the music of the last decade in many ways has been lost to the national psyche, that whilst music has never been so accessible, it has lost some of its intimacy and sense of surprise to hit from coast to coast.
The strong emotions of a different age are forceful, absolutely playful and one that makes the sound by the band fit right in with the modern world, by being slightly contradictory to everything else, they have achieved more than being cool, they are the stone cold superb. Local Freaks must always be admired, for they dance to nobody else's tune.
Ian D. Hall