Liverpool Sound and Vision Rating 8.5/10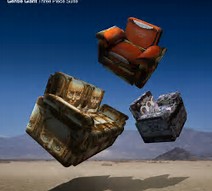 The very name Gentle Giant evokes such memories that the sheer complexity of their music is one to always remember fondly and with a stirring beating smile that suggests without them, many of the Progressive bands we know and love today, might simply not have recorded their own offerings in the same fruitful manner.
It is to the past that the future often looks to and in musician/producer Steven Wilson, Gentle Giant's sense of layered introspection, of the purity that each album strived for over the course of a decade, is captured and given his incredible technical talent the urge to once more digest so much of a band and give the listening public a sense of the dramatic that was lost in earlier productions. Â
Three Piece Suite is a partial retrospective of tracks from the band's first three albums, the eponymous Gentle Giant, Acquiring The Taste and Three Friends and ones that benefit from the keen ear of Steve Wilson and the knowledge he has bought to the genre, both as a fan and a producer/musician of extreme quality.
It is the observational quality of the music that makes it so reassuringly timeless, endearingly enduring and one that perhaps never was given its true worth or respect in the period they inhabited, arguably not so much a surprise, for lauded in one's own community is all well and good but it takes faith of others to delve outside their comfort zone to see that what is on offer is the work of a dynamic that is hard to replicate.
Optimism is a state of mind that is not appreciated by many, they somehow shrug away from it, often out of that self destructive illusion of jealousy; shrouded in their own inadequate mist, they bear grudges that were not there and then they don't see the beauty that shines outwards. It is a beauty that is beguiling when the listener takes hold of the modern day produced remixes and edit. As songs such as Nothing At All, Pantagruel's Nativity, The House, The Street, The Room, Mr. Class and Quality and Schooldays plays out, this is not about replacing the original songs, this about offering a different perception to one of the true greats of the first great wave of Progressive Rock.
Three Piece Suite is working harmony, the past and present not so much colliding but joining hands and thoughts across the age and offering a set of songs that were distinctive and heart-breaking handsome a new lease of life.
Ian D. Hall