Liverpool Sound and Vision Rating 9/10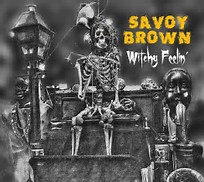 Embrace the darkness as much as you can, allow the feeling that is denied the faint-hearted as they quake with nervousness and more than a little jealousy, for the Blues in the hands of Savoy Brown is that extra tingle down the spine, the tales of hardship, woe and society forced anguish, it is the sense of the macabre in the misery that makes this particular darkness all the more delicious and unnervingly beautiful to hear.
There always feels like there is a dark road in which the Blues player travels alone, maybe in packs, maybe as part of a group but always in the mind, it is a solitary pursuit, the devil that they bargain with for the right to inspire and describe the sadness of humanity surely never makes block bookings; this is the one off contract and is one signed with a flourish by the irreplaceable Kim Simmonds, Pat DeSalvo and Garnet Grimm as they take that Witchy Feelin' and watch as the spell it casts is one of pleasure and a little hoodoo.
Kim Simmonds is arguably one of the few pivotal points of musical reference that spans both the classic Golden era of British Blues and the 21st Century revival, a man to whom can be credited with keeping more than the faith when many of those who hoisted the same flag have either taken leave or found their powers of enjoyment waned to the point of ignominy.
Savoy Brown is the presentation of that warmth and thanks exemplified and as each song from the new album plays out, the warmth, the intensely intricate but undoubted Blues guitar work is like hearing an engine that has been perfectly tuned and has no chance of stuttering; such is the work that has gone into it from the start, Witchy Feelin' purrs along no matter what is thrown in front of it.
In track such as I Can't Stop The Blues, Vintage Man, Standing In A Doorway, Thunder, Lightning & Rain and Can't Find Paradise there is so much to embrace, there is a sense of the voodoo charm and flirtation that cannot be denied and it makes for one cracking, upbeat Blues album.
Witchy Feelin' is the reaction to the songs, something unearthly has been unleashed and the mood is exquisite; Savoy Brown once again show that a band from the Golden period of British Blues can sit with the new breed, the new Kings and Queens and still be ahead of the game.
Ian D. Hall