Liverpool Sound and Vision Rating 8.5/10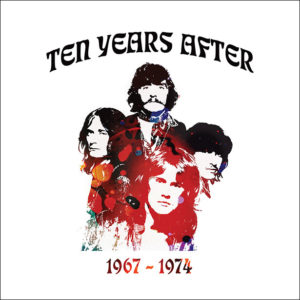 Time has a peculiar sense of humour when it comes to making sure that almost as one we stop looking back too far in music history, perhaps just in case what we find is the reminder that what went before our current favourites and obsessions is actually the top banana, the reason the fan or the dedicated enthusiast became enthralled and engaged in the first place.
Five decades on or Ten Years After, Time is not just cruel, it has the ability to laugh at us when we rediscover the Gods that went before. It does not matter how long ago those guitar heroes, the sublime writers of passionate lyrics were plying their trade and experimenting with form and reason; Time has always got up its sleeve the show stopper of placing down on the table the albums that deserve respect, even if you have forgotten why.
Ten Years After first gate-crashed the senses 50 years ago, a band that quickly became a standard bearer for British Blues Rock and the slight edge of Progressive, and to whom now, and quite rightly, are being celebrated for the devastating purity and elegance they brought to British music, especially during their first outing as a band during 1967 and 1974. It is a celebration of music that hits home at the memory gland and allows the listener, regardless of whether they were there or not, to imagine just what those times entailed, what they were to bring forth.
Across the ten albums, nine which were the first put out by the band and one special disc offering previously unreleased material, there will always be some classics and reminders of how British Blues Rock sounded before it lost its way, shoved aside by the sound of disco and easy popularity, there will always be a sense of longing which can never be replaced, only restored.
Tracks such as I'd Love To Change The World, I Hear You Calling My Name, Good Morning Schoolgirl, I Can't Keep From Crying, Sometimes and Tomorrow I'll Be Out Of Town, exemplify the cool and the upbeat, the surreal and the sensual sound by the band as they became a symbol of the Great British Blues epidemic, the wave of music that in many ways took America's hold on the genre and broke it into small fragments.
Ten Years After: The Albums 1967-1974 is not just a memory of one of the greatest bands of their time, it is an imploring out to the modern day to think that songs do not have to be immediate, a passing fad or fancy in which fashion dictates; it is there to be relished for all time.
Ten Years After: The Albums 1967-1974 10 C.D. box set is released on Friday 10th November.
Ian D. Hall