Liverpool Sound and Vision Rating 8.5/10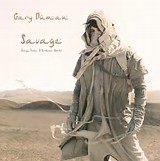 The connections are always there, the Godfather of Industrial Metal, of Synth driven angst and polished extremes, when it comes to putting an album that captures the emotional pull of the self and the world in which we inhabit, few make it as well as Gary Numan, nobody makes it as savagely beautiful as he.
In Gary Numan's latest release, Savage (Songs From A Broken World), the connection between the previous album is made clear, moving from the splintered mind that we all possess when the world is cracking under the strain of our presence, to the fractured course of our shared history and its impact on Earth; the connection is positive, endearing, a little bit haunting but fully embracing.
It is that willingness to embrace which sees Gary Numan include the mystery of the Middle East, the sound of surreal beauty and concord that we sometimes forget to think of as just as intricate to humanity's past as every other version of praise or discomfort is. We distance ourselves wrongly from praise, even if we have no reason to believe in the cries of joy, to hear someone take heart in the songs and faith of their life is something that everybody should experience.
In tracks such as Bed of Thorns, the excellent My Name Is Ruin, And It All Began With You, What God Intended and Pray For The Pain You Serve, the concept of humanity finally defeated by the Earth as it slowly allows its environment to rust, to become pure sand and suffer desertification, is only the prelude to perhaps humanity's greatest folly, that of following ancient texts when reason should pull us back from the Armageddon that we have employed upon ourselves.
It would not be Gary Numan if the concept played out was not only intriguing but beautifully balanced, the sheer soundscape of metal against petal, of greed performed by the grind and the ache of the instruments at hand; all of this is what makes the music and the idea artistically rich and dominant.
Savage (Songs From A Broken World) continues the excellent run of form that Mr. Numan has enjoyed, a sense of completeness is on offer and once again the musician, the Godfather of the Industrial sound, comes up with passion held high.
Ian D. Hall