Liverpool Sound and Vision Rating * * *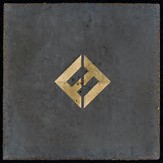 It can almost feel like musical sacrilege to feel indifferent about one of the great bands of the modern era; somehow something inside fails to fall in line with expectation, with what you see and hear around you taking place and whilst you might be forced to reconcile those feelings with what everybody else is saying. Deep down, you know something is not right, something has lost its charm and become staid, good, alright, even reflectively sober, but it doesn't grab you, it not set in concrete and does not have the allure of gold.
For the Foo Fighters, the dynamic and the bristling confrontation have always been part and parcel of the rock god's collective armour, abrasive, willing to throw down the heavy gauntlet and rekindle memories of when the genre was about making noise as well as scoring social points. This dynamic is one that seems now misplaced, a more gentle thoughtful approach to anything is to be commended, even upheld in many quarters; and yet it still feels as though the band that arguably gave guitar influenced American Rock back its self respect after years of going downhill, has suddenly become muted and a little too serious as they release Concrete and Gold.
Sacrilege is the cry from the faithful, the self flagellation in evidence and yet it is to miss the hard steady beat across a multitude of songs when all that remains is the introspective; worthy or not, that signature Foo Fighters' and Dave Grohl's rage and exciting chaos is what makes the band they are; it might be sacrilege to suggest otherwise, however sometimes the pain of words said in truth is always positive. Â
In any other band you might perhaps think that leeway is possible, after all some groups revel in the demure and overly coy, they take the settled drum and make it feel as if it has been romanced, been valued; but it just doesn't seem right when you have felt the outpouring of what has hit your veins before.
Taken separately, some tracks do hit out but the pack is always judged by the slowest member, not by those acting as muscle bound guards but those who are placed in the middle, the cubs whose teeth are not yet broken in. Run, Dirty Water and Sunday Rain have the pack covered but they do not have the power to keep the prying eyes of those surrounding them, believing there is rich picking to be had.
Middle of the road is an o.k. state of mind but it comes as a surprise when in the form of one whose whole career has been about the glorious and the ruffled feathers. Concrete and Gold is too peaceful overall; there is no peace in tranquillity.
Ian D. Hall