Liverpool Sound and Vision Rating * * * *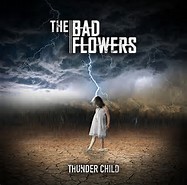 All electric, all sublime, the natural home of heavy rock, of the open growling riff and the warm open heart of the vocals that resonate the power of Midland's Rock, more notably and aptly, the history, the echoing boom of the Black Country; all is in the hands of The Bad Flowers as they release their formidable single Thunder Child.
Rock need not be complicated, rock doesn't have to be engorged by the add-ons and the sometimes overfilled, and occasionally all it takes is the memory of what made it chest beating, heart pounding and resounding in the first place. The decent and alluring vocal supplied by Tom Leighton is adorned with that uppermost thought, great guitar collaboration with a bass prepared to declare war on the dull and impartial and a set of drums played as if they are on fire. It is in this sense of emotive cool that Thunder Child screams out that the Black Country has heroes in abundance, that the Midlands is still the natural home of the genre.
It is not hard to appreciate The Bad Flowers, on both sides of the electric single, Thunder Child and Lions Blood, Tom Leighton, Karl Selickis and Dale Tonks are as distinctive as they are full of flavour, the two states of musical passion not always being an exclusive bond, and yet one carried off with the same distinction once afforded the likes of a young Whitesnake or even the great Thunder. To be seen as youthful in terms of delivering a great pounding single that makes the heart skip with vigour is a high water mark, to add to the energy the feeling of panache is honour that charisma and characteristic you want to achieve in the future.
The Black Country will always have heroes, it doesn't just come from the water or the blood, it is the history of the forge and the anvil, the heavy littered and unbroken line of succession to the Rock throne that rages hard on the front row of any gig and builds up throughout the venue in quick time.
A great single, passion unbound, there is more to come from The Bad Flowers for sure.
Ian D. Hall