Liverpool Sound and Vision Rating 7/10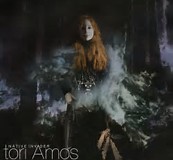 You can stand in front of the Mona Lisa as it resides deep underground in Paris and you can marvel in the perfection, the composition, and you can be haunted by Time, by the sheer scope of history and the insignificance of what is shadowing the piece before you and you are struck by the beauty, by the sheer audacity of one human being's attempt to capture something exquisite, a slice of art that is permanent and captivating. You can do all that but it doesn't necessarily mean that you think it is the most interesting or truly dynamic of works; that it is so beautiful and evocative but ultimately it is not as good as the brain or the heart desires it to be.
Tori Amos' latest album falls despairingly into the category, it is a piece of the Mona Lisa, it is the wilderness that the eyes open wide for as it witnesses history in passing but other than that Native Invader rarely picks up the pace and leaves the listener breathless, being overcome by history is one thing but it is like reading the cold and triumphant version and not the thrust of the unexpected and the brilliant.
Technically there is everything to love in Native Invader, tracks such as Up The Creek, Mary's Eyes, Chocolate Song and Benjamin frame the piece, Ms. Amos absolutely plays the songs with love, attention and with all her years at the heart of the piano with key orchestration. However, it also is also verging on the still life canvas beyond its initial listening, a set of songs that are so proficient, so big and encompassing but they unfortunately lack that one moment which normally sets Ms. Amos apart from all who wander into her sphere, vibrant, high peaks of introspection that rival mountains and deep troughs of thought that match the very point of human anxiety.
To feel the album lose this is a shame, it is not the first time after all and is usually followed by an album of great resolution and passion, not just in the notes but in the lyrics and it is that perhaps where the issues may lay; by focusing completely on nature, we have lost the feminine power, the absolute magic that Ms. Amos possesses like no other.
A good album, it is framed and admired but place it alongside for example Clarence Holbrook Carter's The War Bride and it is no contest, one that the Mona Lisa would crumble under.
Ian D. Hall