Liverpool Sound and Vision Rating * * * * *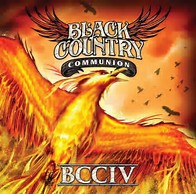 When the past has been so good, it is always a shame that the future might be considered blank, a void, the page that will remain unwritten and with the ink kept inside its pen, nothing great lasts forever, yet in the hands of the four giants that make up Black Country Communion, it can at least be seen to add a smile to the lips of musical eternity.
That page unwritten, the prospect of the chapter remaining unsaid and with the protagonist unaware that the cover of the adventure had been closed, not bookmarked, suddenly finds there is still an journey or two, a heroic deed left to embark upon and relate the tale to the populace; it is the tale of arguably the Supergroup of the 21st Century, Black Country Communion and the story that unfolds in their latest studio album BCCIV.
There are those who probably believed that BCCIV would never happen, that the three albums, all like an Arabian stallion, majestic, uncontrollable, full of heat and fire, would be the only insights into the collective minds of musicianship at its finest, was probably too much to bear. Yet belief is infinite, without belief and hope that something good will continue beyond what people say, then there is very little point in dreaming. Hope exists because it must, in a world teetering on the brink of perpetual insanity, to find that the stallion quartet of Glenn Hughes, Joe Bonamassa, Jason Bonham and Derek Sherinian, the radio play and the groove stuck inside your head are the only grasps on reality we have to cling to.
The album is not so much powerful as it is dominant, the authority wielded is formidable and irreplaceable and it is with little wonder that the album has been as keenly anticipated as it has been. Dominant and wild, instruments played at their collective best; only would you find such artistry in the mind of one the great painters of the day such as Turner or Constable, in the mind of Mary Shelley or in the thoughts of Abraham Lincoln, revolutionary yet unyielding, not concerned with the popular but oozing class because the sound is right.
In tracks such as the exquisite The Last Song For My Resting Place, The Cove, Wanderlust, Love Remains and When The Morning Comes, the fantastic four once more lay down an album and open the doors to power that is incorruptible, that silences those who dare suggest with angled eyebrow raised, that the Supergroup Rock has had its day.
As Long as there is Black Country Communion, there is always hope; BCCIV is that emotion made real.
Ian D. Hall