Liverpool Sound and Vision Rating 9/10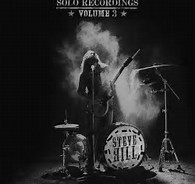 It is surely impossible to dislike anything that come from Canada, almost an unwritten law that states across the rest of the world that the people north of the longest undefended border in the world are just to be adored, coveted, admired and looked up to; for how often do you come across anybody with Canada in their hearts and on their sleeves that isn't just amongst the most artistically free and bewitching of entertainers and thinkers.
Impossible to not think of any at all, add another to the pent up mix, the Maple Leaf flying, saluting, not with arrogance, but with gentle pride, a man to whom one man band is perhaps arguably the most fitting of endorsements and that is worn as a badge of honour; in Steve Hill that sense of progressive Blues, opening up the feelings, allowing the deep reservations that others might skirt round so they don't get bogged down in turmoil and pain, is in fact embraced whole-heartedly by the Montreal Bluesman.
It is that embrace that makes Solo Recordings: Volume 3 so alluring, the breakdown of all that makes arrogance and petulance such a destructive force, no matter the artist, no matter the genre, is dismissed and sent packing, for there is no room for the brutish and superior conceit; all that is required is for the soul to open up and perform across the board with sentiment, truth and self-respect. It is in those qualities that Steve Hill possesses the dignity of music, of playing for the pleasure and the gratification, for if it was an illusion, why would you play every instrument possible on the album; Steve Hill feels the notes and the Blues with such timing that it would not be possible to think of him any other way but honour bound.
The songs resonate, they sing across the founding of the day and in the tracks Dangerous, Rhythm All Over, Emily, Can't Take It With You and the beguiling cover of Going Down The Road Feeling Bad conspire gently together to make the listener, not only take note and pay attention, but to feel the emotion of a man and his musical weapons of choice that eavesdrop on your thoughts and turn them into worlds of wonder.
Solo Recordings: Volume 3 is another stepping stone along a lake of depth, peer in, see the reflection of the cool blue water staring back at you and then understand why someone like Steve Hill is a beacon of hope.
Steve Hill releases Solo Recordings: Volume 3 on October 6th 2017 via No Label Records.
Steve Hill will be performing at the Floral Pavilion in New Brighton on November 2nd as support to Wishbone Ash on their 18 date U.K. tour.
Ian D. Hall