Liverpool Sound and Vision Rating 9/10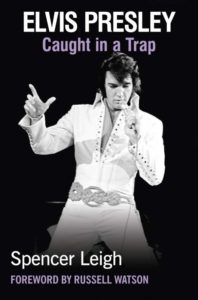 Forty years on from his untimely passing, the name Elvis still sells, although perhaps to a younger generation, those to whom the world is moving rapidly away from such sentiment to entertainers who died before their time, the urge to go to Memphis, Tennessee, is not a high priority in life, to sample Nashville, unless they have a musical ear, not a place to go when so many exotic places still remain undiscovered.
For many though the King never truly died, his music still gets played with a ferocity of spirit, his films have perhaps dated but the iconic look has never been erased; for those to whom the words Love Me Tender still make the heart beat a little faster, it might seem that a timewarp has been built around the era when Elvis Presley was alive, that they, like the man, are Caught In A Trap.
Far too often a biography will have the reader sitting submerged in the life of the subject and then having them realise that they know nothing of the times, the events or other people that have shaped that particular life; unless it directly affected the subject, then everything else is left out. Napoleon once said, "That to understand a man you have to know what was happening in the world when he was 20", perhaps not the greatest of sources to quote but his words resonate, not just for Elvis, but for us all.
What Spencer Leigh shows perfectly in Elvis Presley: Caught In A Trap is that world, a world that had started consumerism in greedy terms, that not only was the popular singer a man of great appetites, of women, of excess, of food, of incredible generosity and money, he was being consumed by the American, and later, the world's public, by his own doubt and insecurity after what could have been the great stabilising force in his life, Priscilla, left him and that of the self-styled Colonel who in many respects could be argued had started eating into flesh even before the entertainer hot that 20 year old mark.
Written with sensitivity, this after all is no ghoulish expose written by one of his entourage with an axe to grind; this is a man who brings the all American idol back to life and outlays exactly what the man meant in terms of popular culture and isn't afraid to raise an eyebrow at some of the more darker aspects to the man's personality, not with a view to harm, but to understand.
"When you're the last man standing, you can claim anything.", writes Mr. Leigh, when talking of Robert Johnson and David 'Honeyboy' Edwards. It is those claims that perhaps added to the problems in Elvis's latter days, the excess is one thing, the consumed is quite another throughout the book, the consumed is always prevalent, two shows a night for a month, twice a year would take it out of anybody, let alone in a man to whom was pushed into regurgitating film after film, taking advantage of looks before they would invariably fade; this is more about the abuse of a legend, a person with an extraordinary voice, who flouted the law despite his image in his pursuit of the woman who would become his wife, Priscilla Presley, a man who ignored the warnings but who gave the world a lasting memory. Elvis may have checked out the building early but his songs still haunt every room.
To write about any entertainer is an undertaking of love, to speak to band members, the people that make up the life and to scrutinise the details without being sensational for melodramatic sake is to be applauded. A great biography of the man they called King. Elvis lives, the pink Cadillac is on the driveway and Jailhouse Rock fights for the number one spot with In The Ghetto, it is, after all, all because of the wonder of the legend.
Spencer Leigh will be appearing at Waterstones at Liverpool One on Wednesday 16th August 2017.
Ian D. Hall