Liverpool Sound and Vision Rating 9/10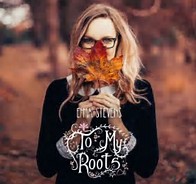 Emma Stevens has been heroic and sensual in her music as she releases songs and plays live to audiences, now in To My Roots, the singer/songwriter, written with long time friend Charlie Midnight, takes the next step on her journey and strikes out of the whisper and into the realm of the tigress prowling her domain, protecting the creativity that has been nurtured but also knowing with bold assuredness that they stand on their own two feet and roar willingly on their own accord.
It is that willingness to explore the deeper meaning behind her own songs, to not be afraid to look the magic in the eye and flow with the waters of intuition and grounded earthly humanity, which makes the album sparkle.
Songs such as Money Can't Buy Me, Achilles Heel, Shoot the Breeze With Me, Let In The Good and a marvellously reinterpretation of Katrina and the Waves' hit single Walking on Sunshine, less last song of the disco and more introspective feeling of state of mind and the happiness that comes eventually when you least expect it, Ms. Stevens harnesses the ethereal, she sees into a different spectrum of life and asks it to hold her hand willingly.
With Sam Whiting and Pete Woodroffe making a wonderful return to the studio with Ms. Stevens, there is a sense of continuality that some artists ignore in their pursuit of furthering their ambition or their sound. Some solo artists dispense with what has already worked before as they endeavour to break new ground, to that end it is of course personal, it is their music, it is their choice but there is something cool about keeping a link with what has gone before.
With the additionally proficient and alluring Mike Bould, Dom Cardell, Sam Rommer, Michael Spriggs, Bruce Bouton, Jonathan Yudkin and Spud Smith contributing to the highly delightful feel of the album, To My Roots is a fantastic continuation of a sublime artist's output. Intensely magnetic and deeply profound throughout, Ms. Stevens remains undaunted.
Ian D. Hall