Liverpool Sound and Vision Rating * * * *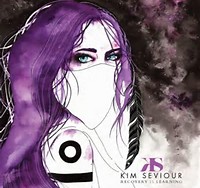 You never like to think that a vocalist of such immense raw and sensual power as Kim Seviour would ever fade away into the background, that the former lead singer of Touchstone would ever disappear from the scene due to external circumstances; thankfully and with a resounding musical smile, Ms. Seviour is made out of granite, sturdy steel and her new debut solo album reflects fully the grace that the woman exudes, that she has fully embraced the mantra that Recovery Is Learning.
There is no better lesson to understand that being inspired by someone such as Kim Seviour is a powerful message, if something is deeply buried in your heart, something you love with so much passion, then no set back, no retreat is going to going to stop the words from flowing and the insight from growing ever stronger, ever charismatic.
Recovery Is Learning, holding the head up high and looking down the barrel of your own art is paramount, it is the healing between what was and what can now be, the join, the fizzing of the gunpowder as it threatens to break down the heavily guarded door of loss. Nobody should ever tell you how to recover, nobody has the right to tell you that taking stock of where you are and how you live your life is wrong, for the limitations of their own experience is not enough to judge the artist; all that matters is the revival, the repossession of what is important.
The album's pulse is very much that repossession, the capturing once more of what made, and continues to make, Touchstone such a bountiful Progressive model, the archetype of Progressive Rock in the 21st Century.
Produced by the legendary John Mitchell, and written by Ms. Seviour and Mr. Mitchell, the album is in part a reckoning, a healing between the past and what is ahead, the past not defeated, not dismissed but reconciled with, learned from and the present and the future a canvas in which the vocalist can soar perfectly.
In tracks such as Call To Action, Faberge, the elegant Mother Wisdom, Where She Sleeps and the album's title song and arguably most revealing moment, Kim Seviour truly embraces the future, a great and abiding memory to come.
Nobody can keep this marvellous vocalist down, not time, not what has gone before; this is an album in which resilience and the vocal is therapeutic and possessive.
Ian D. Hall