Liverpool Sound and Vision Rating * * * * *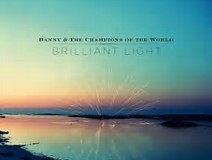 Whether it a candle flickering wildly, a torch shone with investigative intent or the power of a the brightest of stars filling the galaxy with such luminosity that it cannot be hidden from,  that not even turning your back upon it and cradling your eyes shut tight, the Brilliant Light will always be revealing and beautifully cruel.
It is a light that Danny & The Champions of the World hold steady and with perfect aim, the glow and radiance afforded their new album is one of outstanding quality and one that highlights perfectly their material as being arguably the most natural successor to the Eagles as is humanly possible but also one that is full of humility, illumination and easily enjoyable tracks that are laid down with simple but exquisite charm.
Brilliant Light is the band's sixth album and the full length set, 17 songs produced with no sense of filler or fluff to be found anywhere, something rare in an album of that many numbers and is, as is anybody's want when confronted by the dazzling light of interrogation, only to be considered as the group's finest display to date.
Light though can be harsh, it can reveal cracks, the insubstantial and the positive dark as nothing more than a shadow of pale dullness; for Danny & The Champions of the World, the harshness that comes with introspection only reveals hidden depths of treasure, in every corner there is the weighty box of importance and the hugely significant that comes in the delight of the Magnus Opus.
For most people remembering where they were when they first heard a particular album for the first time is the same as recalling with fondness the first person they kissed in passion, it is a memory and record of a life lived in the pursuit of love, whether in music or in the arms of someone they deeply engage their soul with; for some albums it transcends that first kiss, it becomes the stepping stone to something greater, a moment captured never to be replaced and Brilliant Light is one of those albums.
In tracks such as Bring Me To My Knees, Hit Me, Swift Street, It's Just A Game (That We Were Playing), Coley Point, the devastatingly cool Flying By The Seat Of Our Pants and The Circus Made The Town, Danny & The Champions of the World have produced something, not just special, but damned awesome.
Brilliant Light is an album of absolutes, of memories made and one that stands up against the very best.
Ian D. Hall