Liverpool Sound and Vision Rating 9/10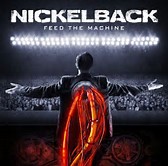 It doesn't take much mental acumen to notice that the machine is getting bigger, more intolerable, extra insidious; you would have to be without sight and the ability to listen to know that life is less about freedom and more of being ground down and used for fertiliser. Pink Floyd may have welcomed you to the machine but Nickelback have shown in their latest release just how to Feed The Machine.
Feed The Machine is surely to be seen as the Canadian band's hardest hitting albums to date, full of anger, fury, a ferocity of spirit that does not normally transpire within the Canadian psyche but when it does, is reminiscent of the finest thunderstorm on record and no one is safe from its wrath.
It could be in response to the outside world becoming a harsher, less compassionate place, it could be even the two fingered, scowling retort to those who keep putting down the music of a band to whom have always risen above the tiny minded. Whatever the reason, the verbal comeback is one to savour and one that also should be wary of, for in the band's anger, lays the foundation, the stepping stones of a different type of music, one that does not rely on the comfortable but enjoyable and instead is harbouring resentment to the powers that be, that is infuriated by the ridiculous and enraged by the unbearable.
A hard hitting album is one thing, to carry it off with superb sense of ability and charisma is another and the tracks that are laid down on the album have that in abundance. It is almost as if the band have changed direction from the likeable and endearing to the aggressively engaging, as if the world has finally seen a perspective of a group that it had not been privy to before.
In tracks such as Coin For The Ferryman, Silent Majority, For The River and the album's title track, Feed The Machine, the listener is treated to a barrage of undeniable quality of musicianship but also a sense of lyrical appeal; the anger is audible and it is visible. It is seen in the mind's eye with every downward slash on the strings and every beat of the drums, this is fury and it is enlightening to hear from a band for whom too many have taken delight in calling plain or vanilla, enjoyable but safe. This is not safe but it is still the heartbeat of pleasure.
Feed The Machine all you want, in the end, anger will win out.
Ian D. Hall