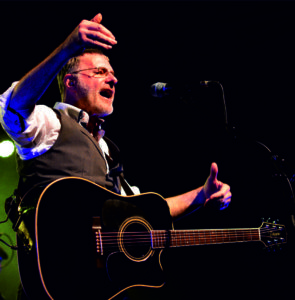 Classic rock icon and 'Cockney Rebel', Steve Harley has written and recorded eleven albums in a prolific career covering four decades. Originally formed in 1973, Cockney Rebel had Top 20 hits with Judy Teen, Mr. Soft, Mr. Raffles, Sebastian, Here Comes The Sun and of course their No.1 Make Me Smile (Come Up & See Me) and now the iconic performer is coming to Warrington on July 22nd to once again thrill and delight fans and admirers.
Steve began his singing career "floor-spotting" (singing for free as a member of the audience) in London folk clubs in 1971/72. He sang at Les Cousins, Bunjie's and The Troubadour on nights featuring John Martin, Ralph McTell, Martin Carthy and Julie Felix, all leading lights of the London folk movement at the time.
He later joined folk band Odin as rhythm guitarist and co-singer, which was where he met the first Cockney Rebel violinist, John Crocker. However, the folk scene proved a little tame for Mr. Harley and, as he was constantly writing songs, formed Cockney Rebel as a vehicle for his own work. It was here that Steve and Stuart Elliott first met and worked together. Stuart drums with Steve's band on record and on tour from time to time to this day. The band signed to EMI for a guaranteed three album deal in 1972 and released The Human Menagerie early in '73.
From this collection, a single, Sebastian, became a huge European hit, staying at Number One in Holland and Belgium for many weeks. Other albums followed, including Pscyomodo, The Best Years Of Our Lives, Timeless Flight, Love's A Prima Donna, Hobo With A Grin and the excellent The Quality of Mercy which was released in 2005.
One Steve Harley and Cockney Rebel single, Make Me Smile (Come Up See Me), reached Number One in 1975 in the U.K, and many European countries and is regularly voted among the top singles in the history of the charts, which covers six decades of releases. The Performing Rights Society has confirmed the song is one of the most played records in British broadcasting.
During the eighties, Steve took time out from the rock world as his two children were going through their formative years but did perform on stage, albeit the legitimate stage. He starred as the 16th Century playwright Christopher Marlowe, in the musical-drama Marlowe, which ran off-Broadway and in London. Steve's performance was described by one leading critic as "a major and moving performance."
The night promises to be another night of stirring quality by a true legend of British music, to capture the soul of the performer should be seen as one of great honour.
Tickets for Steve Harley & Cockney Rebel at Warrington's Parr Hall on Saturday 22nd July are priced at £27.50 in advance. Tickets are available from the Parr Hall Box office on 01925 442345 or online at www.pyramidhall.com.
For reviews of other Steve Harley gigs go to:
http://www.liverpoolsoundandvision.co.uk/2015/11/17/steve
: http://www.liverpoolsoundandvision.co.uk/2012/08/28/steve-harley