Liverpool Sound and Vision Rating 8.5/10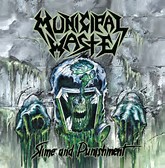 Artistic freedom is essential in all walks of life, not only for the artist who has the vision of something different in mind when told they must plough a field, but the everyday person, the ones who also see the extraordinary in even the most mundane of tasks or the bitter resentment of working for a conglomerate that doesn't care. Freedom is fundamental, freedom is a right that should not be seen as one that can be bargained for or relinquished in exchange for control by fiscal bribery; for in doing so you open yourself up to the realms of Slime and Punishment.
It is in the low tolerance for those that seek to abandon humanity, the people who don't seem to have a care for the world that we all inhabit, that Municipal Waste's Slime and Punishment reaches out and physically abhors, that the image of a hundred years of toxic potions and misuse can come out of the pit and slap those in charge around the face until they get the point is one of tantalising richness and one that the members of Municipal Waste can easily put out into the world with the energetic and pounding release.
Tony Foresta, Ryan Waste, Nick Poulos, Phil Hall and Dave Witte have always come up with the goods when putting their crushing, soul imploding sound together but on this new album there is a tremendous sense of tension being played out, an idea that the world is truly teetering on the edge of being run by fools and the dispassionate, people to whom money is more than a God, it is the being that consumes them and spits out any semblance of passionate humanity.
Moving on from a four-piece to having a fifth member can have unforeseen repercussions in the studio and yet happily the addition of Nick Poulos the furthering of the Municipal Waste's roster is one that adds such an edge to the music that the original biting crunch is one now that pulverises and sharpens the whole feel of the collective endeavour.
In tracks such as Low Tolerance, Death Proof, Breathe Grease, Bourbon Discipline and the album title track Slime and Punishment, Municipal Waste have every right to feel proud of their continuing contribution to the world of speed metal.
An album of knock-out blows and sharpened wits, Slime and Punishment is a reprimand to all who see the world as just another garbage disposal and who have no empathy in their hearts for the downtrodden and dispossessed in life; an album of high energy and even greater security, arguably the band's finest yet.
Ian D. Hall