Liverpool Sound and Vision Rating * * * *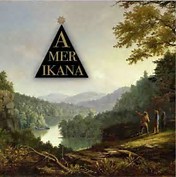 There is a reason why bands keep coming back to the world of the Psychedelic, of the rebellion that encompasses both mind and spirit, it is not in the fashionable or the chic, the often abhorrently trendy, it is because at the end of it all, at the closing down of every argument and rebuttal, it just sounds convincing and flawlessly cool.
For The Stevenson Ranch Davidians, their brand new release Amerikana, the spirit that once fed the genre in droves to the musically inclined is a real opportunity in which to bring to the attention of many an audience the feel of a harder rock sound but one tinged in meaningful magic, the tasteful energy that made Psychedelia play with parts of the brain that other genres fail to invade or excite.
The movement of the 60s beat is non–designer, it flows not like clockwork but more like the untimely anticipated wave hitting the shoreline, the patterns created by this unexpected Time, this weave thrown off course by the sands that run through a see through container, is one that is both amazing and beautiful but it is never to be seen as trendy or in vogue, for that would spoil the illusion laid down.
It is impossible to feel the mystic at the heart of the weave, the songs pound the streets as if the puppet master of music appreciation has been scalded and told to stay in their room, this majestic marionette has the freedom to roam beyond the once constrictive realms and instead of being subdued into a corner of the happening and usual, this album offers a direct mastery of vocals and accompanying music.
In tracks such as Holy Life, Love Is A Big Light, Binary Bop and The Highest Meadow, the sense that humanity can control their minds enough to bring together such loose music into a tight realm and see it not only as enjoyment and pleasure but also as something of a spectacle, of the scene beyond the mist.
For the band's first album since 2009, this is essential listening, Amerikana is a blend of magic and experience wrapped up in the groove of satisfaction; a realm in which Psychedelia delights and enthrals.
Ian D. Hall