Liverpool Sound and Vision Rating 8.5/10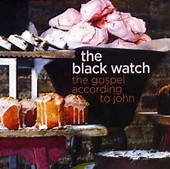 From whence you came is but where you shall return, in the case of L.A. based band The Black Watch, the line in between the two is so strong, so distinct that it sends out its own pulse. It gives and receives the punches as if it had got between the Ice Hockey players of Colorado Avalanche and the Detroit Red Wings in a match which decided arguably the finest boxer on skates, so well that it comes away without being either bloodied or bruised and is testified with honour in The Gospel According To John.
Vocalist John Andrew Fredrick's love of literature shines through in the album, the underlay of British reserve and mixed with the high tension of some of Britain's more incredibly versed poets is never too far from the bomb blast of music supplied by new member Andy Creighton's lead guitar, Rick Woodard's drums and Chris Rackard's bass. The heavy influence the music has on the album is not just a punch aimed inside a hockey glove, it is the full mass brawl patterned out by slick sound and mercurial hooks.
The Gospel According To John is the band's 15th album and one that sits superbly in amongst their back catalogue, something that perhaps still rankles with anybody who has heard them before or has taken the time to listen to them, is how exactly are they not bigger than they are. It is a phrase, a offering of praise that could be labelled at many a band but in The Black Watch it is especially true, the sense of language and linguistic fortitude being shamefully ignored and to the determent of those not aware of their existence.
In tracks such as The All-Right Side of Just Okay, Jealously, Orange Kicks and the album opener Whence, The Black Watch power onwards, the Gospel is to be heard and the sense of keeping a fantastic tradition alive is to be applauded. Whether Andy Creighton has re-energised the band is possibly up for debate, but it has certainly laid down a tremendous foundation for the L.A. based group, a foundation which once again continues to thrive.
Ian D. Hall