Liverpool Sound and Vision Rating 8.5/10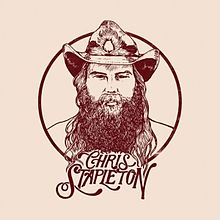 We all sit at times in our rooms, the décor may change, the furniture may find its way to the local dump after many years of being held together with Blue-tac, elbow grease and luck but in the end we find ourselves where we are comfortable, our nest, the sense of relaxation or protection, our safety net…whichever way you hold it up to scrutiny, From A Room is where we learn to sing.
In Chris Stapleton the growl of the travelling man is still there, the sound of a thousand train carriages clanking in the background and the harsh gaze over a million sky lines, all zones and all containing the beautiful bluegrass/straight up blues and country feel underneath this Kentucky armour, an armour which has seen battle in the open, that has crossed swords and levelled perceptions and which now From A Room the tales can be told and with anecdotes of musical introspection from great musicians such as Dave Cobb, J.T. Cure, Derek Mixon, Mickey Raphael, Morgane Hayes-Stapleton, Michael Webb and Robby Turner.
It is not only in the tremendous musicianship that lights up the album, the travelling man finding time to take notes on everything he has encountered along the way, it is the vanguard, the personal who sit down with the roaring fire stoked up to its highest possible setting, the crack of wood and the fine bourbon being drank with soft ambition that the story's become personal with.
With the likes of Mike Henderson and Shawn Camp on board the freight train, songs such as Broken Halos, the fantastic Them Stems, Last Thing I Needed, First Thing This Morning, the compelling and honest feeling of desertion in Second One To Know and Death Row, the album is not shy or found wanting in the sense of direction it is portraying; the compelling nature of the songs graft themselves into your mind long before you realise you love them, that you are enamoured by them and the stance they take in releasing images of untold damage and runaway hearts.
We sit in our rooms, no matter how large or small, no matter how cluttered or pristine and sense that all that we are is a collection of tales and songs yet unwritten; for Chris Stapleton the idea that all can be gleaned From A Room, the lived in one or the one in the mind, is both haunting and creatively intoxicating and it is feeling shared with love by the musician.   
Ian D. Hall