Liverpool Sound and Vision Rating 9/10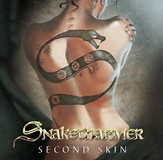 Love the skin you are in if you are able, cherish it even it is the hardest thing you do, and if it is not possible, if all the cards are stacked against you and you left holding the Queen of Spades and all the Hearts except the Ace, then grow a Second Skin, put on the mask if it is possible and throw a single finger up in defiance; nothing would make your enemies and detractors more mad and jealous.
Of course it is easy to suggest this, we are all guilty of hoping to help someone by urging such platitudes upon them but sometimes the Second Skin is the one that comes out fighting. iIt is the venom used sparingly, the angry perfectly appointed and the end result is always one that captivates and holds the greatest of respect; to rise and rhythmically dance, to look the Pungi straight down its flared nostrils, that is the way of the Snakecharmer and it is one that has once again filled the void found wanting in the Rock department.
Whilst this new album by the creative force that embodies Snakecharmer lost one of its driving forces when Micky Moody left the band, the sense of the dynamic and influential still breathes on, it still is so compelling to listen to that the beat laid out by Harry James, Neil Murray, Adam Wakeman, Laurie Wiseefield, Chris Ousey and Simon Mcbride is so infectious, so unwavering in its commitment to the listener's pleasure that the crowd surrounding the snake have no idea just how much teeth is in the jaws of this mighty band and that once they find they have been bitten, they are entranced by the sound forever.
Love the skin you are in, feed off the emotion and the vibe that Snakecharmer have put out on this splendid album, for in songs such as Are You Ready To Fly, Hell of a way to live, the incredible Punching above my weight and Dress it up, the band let loose with everything they have at their disposal and send out the message that they, once again, are natural heirs to the form and genre, that whilst the line up may have altered slightly, this group is still not only charming, they are the temptation to end all temptations.
Second Skin, feel it, wear it well and revel in it, for the Snakecharmer may have got the reptile up and moving but it is your dance that it swings to.
Ian D. Hall