Liverpool Sound and Vision Rating 8.5/10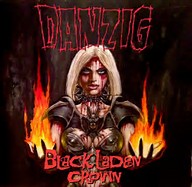 There is a special place on Earth reserved for Danzig, the most combustible of volcanoes bow down and spill their lava in appreciation, stars blink out of existence in honour and the doom laden unappreciative steel their knives and pen like swords in readiness to decry one of the most incredible of lyrically perfect bands of the last three decades.
It is always in the music that the condemnation and those that decry shake their head in antagonism, they see the battle waged as personal, as an affront to the almost every other genre.  Yet as Danzig celebrate the release of their new album Black Laden Crown, the multitude who sing their praises even when it rains or when the clouds descend and turn majestically craven and dark, are not going to find themselves in the wrong team, they are understandably aware that the lyrics compliment and force people to think in the same way that Edgar Allen Poe caused division but was ultimately proved to inhabit the realm of genius.
The Blues Doom style has never gone away and it is to be thanked in any quarter that Glenn Danzig has stuck by his principles throughout his career and never once allowed the genre to suffer his abandonment; too many bands change their style and whilst evolution is to be encouraged, it can leave too many holes for the fan to cope with.
Joining Glenn Danzig on the album is Tommy Victor, a long time important cog and tight fitting collaborator and a mixture of drummers to whom each track supplies a different congratulatory flavour and is a healthy seasoning of panache and guile across the board. With Johnny Kelly, Joey Castillo, Karl Rockfest, Dirk Verbeuren, as well as Glen Danzig himself, all taking turns at the toned and the symbolic drum scores, the doom and the heavy Blues are sated and satisfied with a sense of delicious positivity.
In track such as Eyes Ripping Fire, the fantastic Devil on Hwy 9, Witching Hour and Skulls and Daisies all catching the attention of the ears with the sincerity of an explosion at the heart of the soul, Black Laden Crown is the perfect Danzig album in which to tear strips off the Universe for allowing the unsavoury pencilled and ink driven critics room to ply their trade. Regardless of the genre, everything deserves a voice and to wear their words with honesty.
Ian D. Hall