Liverpool Sound and Vision Rating * * * *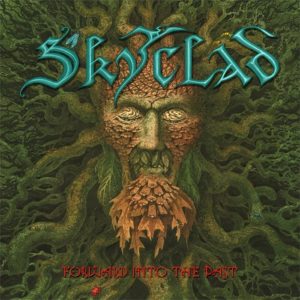 The intro perhaps says it all, "Welcome back my friend, yes, it's been too long…", arguably a truer set of combined words never more uttered in the realms of the distinguished career of Skyclad.
Of course the band have been missed, the eight years in between album enough to tear the hair out of any long term fan, those who migrated from the days of Sabbat and the incredible fusion of Heavy Metal with superb allusions to the Folk genre, those who have not been able to see the band on tour for what perhaps seem forever; missed? There have surely been fans who have pined themselves into a state of unearthly unease as Time has flown by and now feel the relief of the checked mark of the clock as the band return to go Forward Into The Past.
Time is precious, Time is near immortal and there are few bands that match that sense of obligation to Time in their chosen field, from the grateful eternal fires of The Wayward Sons of Mother Earth through to In The…All Together, Skyclad have more than matched Time's powerful efforts to pull humanity towards its next goal. Now the restoration of the band to the psyche of the fans is marching back with pride and honour; Forward Into The Past but with eyes blazing in perfect synchronicity to a future that many would have feared was no longer possible.
Skyclad's Steve Ramsey, Graeme English, Georgina Biddle and Kevin Ridley have conspired to bring an album into the world that harks in many way to the ethos set down in 1990, in the ashes of Sabbat's untimely demise but also truly feels fresh, liberating, dynamic and one that is filled with the urge to revisit the back catalogue and disregard anything else that might be willing to fill the musical void for a while.
From the initial intro of A Storyteller's Moon and through to the conclusion of the piece, Skyclad once again rage with the beauty of a star blazing in the heavens and the soul of an angel who has discovered that creation is a myth. In songs such as State of the Union Now, the pounding brilliance of Words Fail Me, The Measure and Change Is Coming, the group's history is unveiled and the future is disclosed; a sense of urgent homecoming is offered but one with seismic pace and the craft of a band completely in control of their destiny once again.
Forward Into The Past, for the future is more alive because of Time's persistence in never letting a great band slide into the beyond.
Ian D. Hall