Liverpool Sound and Vision Rating 8.5/10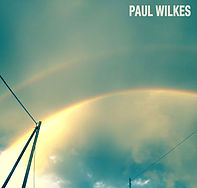 There is something very comforting in realising that Paul Wilkes has returned from the studio, armed with new songs, possessing stunning arrangements and taking on the world once more.
Not that the world would argue, they would applaud, holler, whoop a while and then sit back and let the words of a genuinely wonderfully lyricist and observer of the human condition take his stance, put his name out before the song and then let the music roll; it is in that comfort that such an artist strives for, that no matter the lyric or the song's intention, the last thing they desire is to take away someone's hope, for in hope there is always still a chance of love.
The self titled new album is a glorious affair, a straight and upstanding offer, no catches, no sense of denial; everything is put into the detail of the song and the melody, a sense of purity that comes across without ever touching on the awkward or modified.
Whilst comfort is soothing, there should also be space for taking on those who find a way to wreck the peace of humanity, on occasion the roar of the lion and the bang of an army's drum is enough but it also requires elegance, eloquence and refinement to carry it off to the limit; it is a skill that comes across through the holding out of hands and in the passing of rumble of discontent in the furnace that lives below the mellow surface.
Joining Mr. Wilkes on his self titled album is the impressive James Redmond on bass, Richie Harris on drums, Max Richardson on piano and the effervescent Laura McKinley on strings, it is an arrangement of musical talent that not only works well together but is unified in the cause of making the album stand out, of being a superb addition to another man's dream and for Paul Wilkes that dream is vitally important and is captured superbly across the entire album.
In tracks such as the exceptional opener Runaway, When The Wind Blows, By The River, Hell and Paradise and Stay With Me, Paul Wilkes shines so brightly that the shades you put away ready for the annual trip to the seaside, the comfort of the British summer, are needed early, are required by a sense of longing and yearning to be within touching distance, just in case.
It has been worth the wait, his fans may have lamented and been filled with remorse whilst the musician has been out of sight, yet this new album, this sense of crafted beauty, has the value and appeal of anything that nurtures a sense of well being.
Ian D. Hall