Liverpool Sound and Vision Rating 9/10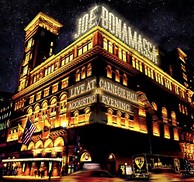 For some it is the pinnacle of a career, the moment they step off stage and realise that they did make the journey to Carnegie Hall, that their talent, honed, sharpened over thousands of hours and perfected upon, this is the moment when it all comes together, in one of the most highly thought of venues on the planet. Along with Vienna Opera House, the Royal Albert Hall and the Sydney Opera House, to perform at the Carnegie Hall on the corner of 55th and Seventh Avenue is the dream that keeps many a creative mind going when the intensity of practise, practise, practise, starts to overwhelm the soul.
Joe Bonamassa At Carnegie Hall, even for a fan of the modern day Blues, this is still the arguably the biggest deal, the chance to sit and watch the man who took Blues out of the late 20th Century doldrums and gave it a purpose once more, a sense of edifying cool, and acoustically inside the great New York venue; this is more than a statement, this is the accumulation of a career that has produced some of the great music of the last 20 years.
What makes the album, Joe Bonamassa At Carnegie Hall– An Acoustic Evening so special is the pick of the artists that support him during the night, the nine-piece band, the sound produced inside the venue that would surely emanate towards the expansive Central Park and have joggers picking up the pace, picnickers take the time to appreciate the time in the glow of a setting New York sun a bit more often and perhaps the lost and lonely finding a moment in which they realise that world is out there waiting for them, all they have to do is listen.
As part of an all-acoustic tour, the responsibility of making sure that the two nights at the Carnegie Hall were amongst the finest gigs the musician had ever played would have been overwhelming, it would have sat in the gut and the fight relished, and with songs such as This Train, Dust Bowl, Driving Towards The Daylight, Mountain Time, the poignant How Can A Poor Man Stand Such Times And Live and Hummingbird, reverberating round the auditorium and captured on an album forever, a night with the great man is assured, the sound of every human being seen to achieve their wildest dreams, their personal goals, savoured.
Joe Bonamassa does not do things by half, a good job really, for we all need someone in our extended lives who is willing to take their path on a wild night of passion every now and then.
Joe Bonamassa Live At Carnegie Hall- An Acoustic Evening will be released on June 23rd.
Ian D. Hall